By Jessy Smulski (Tech Writer)
Like the proverbial canaries in the mine, IT helpdesk consumers in this new age of social distancing have begun to sing a new tune, one that is currently echoing across the global marketplace. How will social distancing, economic uncertainty, and a growing dependence on digital tools, apps, and software solutions reshape the customer experience and the expectations of the level of service your IT business should provide?

So far, we're seeing the emergence of a few new customer perceptions:
A Shared Enemy Could End The Trust Crisis Between Consumers & Brands
As a larger share of economic activities depends on digital resources, IT professionals face record-shattering customer requests. Surging ticket volumes and swamped phone lines have many customers waiting longer than usual for help. That's why tech professionals that bring transparency, empathy, and honesty to their customers will instill a sense of "we're all in this together". As a result, customers may feel less inclined to take out their frustrations on your techs. However, this will only get organizations so far. Recognize that changes in demand are inevitable and rise to the occasion. For many IT managers, that means replacing clunky legacy software with smarter, integration-rich platforms that enhance visibility over critical tasks like alerts, project management, time tracking, asset management, invoicing, and billing to create a more seamless experience between customers and your technicians.
Customers Need Comfort & Predictability Over Bells & Whistles
In an economic climate wrought with change and volatility, one of the greatest gifts your company can give to its customers is some semblance of normalcy. Innovation is essential as we search for solutions to our new ab-normal, but success can only come after reinforcing existing products and services that maintain reliable performance and support. For example, SherpaDesk recently added a remote alerts feature to their IT helpdesk software that enables technicians to set up and receive alerts at home instead of tickets. Alerts allow technicians to prioritize incoming concerns and address the most critical issues first to manage caseloads better.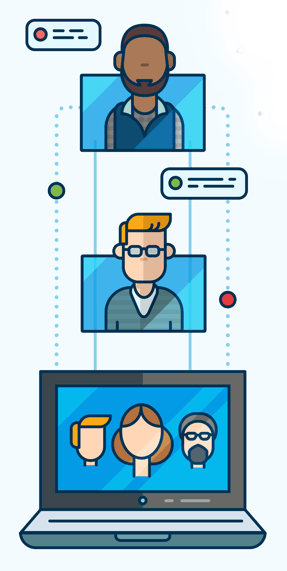 Customers Want To Feel Connected In A Contactless World
Customers are deeply affected by how businesses treat them in times of need. As social distancing continues to evoke feelings of isolation, your company can differentiate itself in a powerful and memorable way by leveraging its customer support software to consistently deliver personalized interactions that feel intentional and genuine.
Here are four critical customer touchpoints we've identified and how to improve them:
1-Provide customers with one point of contact to reduce confusion and ensure that they receive undivided attention.
2-Equip your technicians with detailed customer histories that allow them to have more specific conversations without asking customers to repeat themselves.
3-Use live chat, open web conferencing, screen sharing, and other remote tools to enhance the quality of remote communications.
4-Enhance personalization by offering a secure portal through which customers can submit tickets, track progress, and interface with technicians.
IT & Customer Service In The "New Normal"
Even as retailers and commercial operations reopen, the lingering threat of a second wave will continue to reshape how service providers interact with their customers. Digital touchpoints, including the interaction between customers and remote helpdesk reps, will be responsible for a larger share of the overarching customer experience.
Ironically, our evasion of in person human contact appears also to mark our return to more personalized ways of doing business remotely. Service teams that have flexible, integration-rich, AI-powered helpdesk technologies will outpace organizations that don't—not because they are better equipped to take advantage of the market—but because they can deliver dependable, humanized remote support to customers during and after dire times of need.
When the dust finally settles, will your organization be setting the pace or playing catch-up?