Professional Services Automation is a term used to reference software designed to reduce the pains felt by individuals and businesses within the professional services sector. Professional Services Automation Software is generally referred to by its popular acronym of "PSA" and competes for a position traditionally championed only by ERPs (Enterprise Resource Planners). Professional Services Automation introduces a generation of software designed to make professional services operations more efficient and their resources more productive specifically in firms whose main deliverables are not tangible products.
As defined by SPI Research in the 2007 PSA-End User Survey;
"Professional Services Automation (PSA) is the underlying business process infrastructure providing a structured and standardized approach to the services delivery lifecycle. PSA enables owners to examine every detail of their business processes and potentially improve or eliminate the way in which people work. The benefits uncovered in this survey show that aPSA software can easily pay for itself within one year — significantly improving margins."
Most common PSA software solutions include the functions of project management and documentation, time tracking, billing and reporting, and labor utilization. These features are often integrated with accounting solutions like QuickBooks Online, Customer Relationship Management (CRM) systems like Zoho, and payroll systems in order to the improve efficiency of overall operations. As a result, in addition to better managing client projects, independent contractors find themselves capturing more time and billing more quickly lessening the number of slow billing cycles and lost revenue.
Ultimately, PSA software suites allow users to integrate industry-appropriate metrics in order to better understand operations and, in turn, improve efficiency and profitability. As businesses grow, the size and complexity of their projects tend to increase as well. PSA software is used to provide visibility into mid-project profitability and generally has the capability to scale alongside a customer.
Those familiar with ERP software may like to think of PSA as an ERP system for service organizations.
PSA's serve all sizes of business where you may find large industry players such as Connectwise serving Enterprise and SherpaDesk who serves Small Business Professional Service Firms.
The functions of each PSA tool will vary as they are specifically designed to optimize all of the core components necessary to run your business. For example; The tools of an enterprise will likely be far heavier and complex as opposed to tools for small businesses which tend to be nimble and efficient. Selecting a PSA solution is a delicate process and requires reviewing many aspects of both your business and the solution. Benefits and pricing are important decision metrics but should never be the only aspects of a tool measured,
Below are features commonly found within PSA software, but as stated, this will vary tool by tool depending on what size business it is made for.
Performance Analysis

Operations

Resource Management

Project management

Revenue & cost accounting

Timesheet management

Expense reporting

Strategic sourcing

Request and issue tracking
Where did Professional Services Automation Software come from?
Believe it or not, the conception of Professional Services Automation dates back to the earliest of days during the dot-com boom where first on the scene was one of the grandfathers to technology, Netsuite. Netsuite first created the tool targeted towards the North American Market specifically IT Professional Service Providers.
This was a much needed product at the time as IT Professional Service providers had long since been using technology to help other firms become more efficient and more profitable but, ironically, had never invested in themselves.
At the time, IT Professional Services were running ragtag operations that were convoluted with archaic processes that incorporated lots of mundane paper pushing and systems that frequently would breakdown. The internal business processes of the IT Professional Service provider was akin to a nightmare and for veterans who remember how things were, they happily employ a short memory.
Companies were keeping track of tools, employees, resources, contracts and partnerships completely by paper, fax and hefty computer software that hardly did its job. It was a difficult time. Interestingly enough, despite being made for IT Professional Service Providers, in as early as the 2000s, Netsuite and others quickly found success in this space and began to capitalize on the major opportunity.
Quickly saturating the niche of large ISPs, Netsuite and others began marketing towards the internal IT Professional Service teams of large companies in 2000. Soon to come, these helpful solutions reached began to reach out even further as it found itself applicable to all facets of professional services.
Through the mid to late 2000's Professional Services Automation began to meet difficulties, however, as they have shifted almost entirely into large enterprise solutions which, with their complexity, met troubles integrating with pre-established tools and processes of big enterprises.
Additionally, PSA vendors were growing their suite of features via acquisition, rather than creating them in-house, which created solutions that were a hodgepodge of functionality and lacked the seamless, efficient communication that was the whole basis of the industry when it was conceived in 1998.
These companies began to face great hurdles as they found low sales and customers began to file for bankruptcy near the 2008 crises of which some even pointing blame to the large PSA vendors for creating tools that were way too complicated and destroyed their efficiency.
Around this time as PSAs faced difficulty with industry-wide growth, the large enterprise companies began to pivot their focus towards ERP's, Help Desks, CRMs and Project Management solutions which have risen in great popularity since their conception.
For a short while, PSA tools had meager growth. However, all the while there have been mid-sized teams who have stayed focused on the original mission of the PSA solution and reaped the benefits as they have delivered to IT Shops the functionality they need. Since 2010 there has been a slight resurgence as professional service companies will always face difficulty in growth periods simply due to their business model. For Professional Services, the business model of wild uncertainty and profitability becomes an unending risk to balance. PSA tools have played that role helping these teams find a way to produce more streamlined business processes with added profitability and efficiency.
The newest PSA vendors are now pushing themselves to avoid the issues of previous years and produce solutions that are simple and easy to adopt that still deliver on the original vision of the tool in 1998, making business more efficient and profitable in a short period of time.
Despite the impressive development in this space, if a company is reviewing new PSA tools, they should always be actively reviewing what their internal needs and what is out there to ensure they find what tool most perfectly fits their needs.
Later, we will discuss risks, benefits and how to make a selection for your tool.


How Does Professional Services Automation Software Work?
As described above, Professional Services Automation is a software for professional services that was originally specced for Information Technology Professionals to run and operate their business through one consolidated tool.
The greatest difference between the first PSA tools that were created in 1998 and the PSA software of late is primarily that the newest software is developed and made to exist in the cloud.
If you are unfamiliar with the cloud, what this really means is that the tool, your data, and all other information your business places within the tool will be stored in off-site, secure servers around the world that allow you to log in and access everything directly on the web. How the cloud system is set up, if at all, is going to vary by who you work with. Cloud solutions are essentially just off-site servers. The company you work with could be hosting or it could be through a third-party. Third-party systems, while sounding intimidating, tend to be the best solution for all parties as they are hosted by companies like Amazon AWS, Microsoft Azure, IBM Bluemix, Google Cloud and much more.
By adopting the norm of cloud solutions, PSA tools have found many benefits including more storage, easier set-up, automatic product updates, reduced cost and of course worldwide access to name just a few.
Universal access for customers across any device, anywhere in the world has enhanced the much-needed flexibility of the professional services industry. For those unfamiliar, it is as easy as typing it into your tool into the search bar. Agents/technicians anywhere in the world are able to access their secure information on any type of device giving a great amount of freedom.
Let's get more into the details of how it really works for you. Let's suppose you have outlined a tool that best fits your needs (we will cover how to do this) and have already finished with your new software implementation (which we will also talk about below).
Once your company is through implementation you will find your business to be much more streamlined and connected.
To begin, the process truly begins when a professional services firm will generally sign up for a new tool on a free trial. Within this trial, the professional services firm will be able to test out the functionality of the PSA software before committing big dollars and time. If the team is feeling comfortable, depending on the company they signed up with, they can start payment immediately or will need to contact support of the tool. This is variation usually in size of the tool. Small business tools like Sherpadesk are generally pay as you go whereas Connectwise will tend to be on a contract.
At this point, the professional services firm's data is migrated onto their new tool. Data is uploaded in three ways.
A self-serve solution is offered and data can be integrated and uploaded directly

You must work with customer support so they can upload it

Pay for a third party to upload your data.
This all just depends on who you are working with and what they have created for you in in advance.
From this point on, PSAs streamline core business components and processes of professional service organizations by mechanization (Rudolf Melik). Basically, things are automated and are able to be done in fewer clicks. Tools may be customized and set to produce data reports when they are most needed, calling upon information without your manual effort. Things become simpler, and measuring resources to be deployed is just clicks away.
Below is an excerpt from Rudolf Melik's book, PSAs Optimizing Project & Service Oriented Organization, that outlines all of the core components one can expect a PSA to tackle. Do keep in mind, specifics will vary by the tool.
Components PSAs manage include; (originally outlined for enterprise level)
Managing demand for projects or services

Enables organizations to better manage, qualify and prioritize demand for projects and services

Searching for, assigning and scheduling resources

PSA provide a simple solution for a complex process of measuring out resources through improved tracking, deployment, skill matching, availability matching and prioritization

Manage projects

Tracking work actuals

Streamline this labor intensive and error prone process rapidly improving productivity, cash flow, and compliance

Billing

Enabling actuals to be converted into professional invoices at the level of detail required by a customer. Not only is information collected simply but it is also auditable

Acquiring knowledge and communication

A simple and easy approach to capturing, sharing and retrieving relevant documents

Handling requests

Manages all requests and issues pertaining to a service engagement. Requests can be prioritized, resolved, alert-triggered, approved and analyzed efficiently

Purchase requisitions

Purchase workflows reduce admin costs of creating purchase request and, purchase orders

Integrating

PSAs often integrate seamlessly into accounting software, CRMs and HR tools
Who Might Need Professional Services Automation Software?
As you have probably already identified for yourself, a PSA software tool is a big step for a business to adopt as the dynamics of your everyday business will change for good. Usually for the better. Generally one of the questions that comes along at this stage in the product inspection timeline is a person deciding whether or not the tool is for them. Considering there really is a solution for companies of all sizes, there is something applicable so your business, but the timing is essential.
With that said, how do you know if Professional Services Automation Software is for you?
Determining if you actually have the need for a new tool starts with reviewing your most immediate business goals and pains. While every company has pains and struggles, evaluating processes is critical to better understanding where the problem lies. If you can find yourself solving your growing pains by making a quick change in your operations then that could save lots of stress. But the general outlook is that a company who commonly finds the most use of a PSA software have the feeling as if their processes are complicated and wired. There will be an anxious feeling of confusion and missing information. Goals will look fuzzy and there will be knots in your back imagining the fragmented existence of your business.
Owners of the company will feel a lack of data and reporting, wondering if they are missing out on contracts or opportunity.
Company managers will feel the pain the most as they have their hand in on the both the day to day operations as well as the reporting and analytics. Managers will be stressed by complicated processes and lost information. They will feel as if their team is wasting time and wasting resources. They will be upset about profitability, convinced they can do better.
Lastly, will be the agents and technicians of a company. Agents will be able to affirm any theories or hypotheses from managers and owners about lost resources. Field agents feel deep pains about their daily routine of checking boxes over and over for tasks that could easily be automated. The simplicity of their many tasks will be discouraging. They will know their time is being wasted and are driven to find work with more meaning packed into their day, whether that be within your company or not.
The core idea behind PSA software is to deliver remedies and solutions to all of the pains listed above. The software is made to track and allocate the major resources of service companies or service departments within large companies.
As an additional resource, we have compiled the ultimate resource for identifiers below from various online sources, Rudolf Melik's book (PSAs Optimizing Project & Service Oriented Organization) and our own experience. With this list, you should be able to sit down, review your company, your pains and your goals then be able to actively make a determination based on what is listed below.
The Ultimate List of PSA Identifiers
One easy way to identify if PSA software is for you is to review industries the tool has been developed for. If you are in one of these industries, you are on the right path. If you're are not in one of these industries, there may be other tools out there made specifically for you. And do keep in mind, small business PSAs will be different than enterprise PSAs, so keep your eyes peeled which features you need most and which companies support what.
Industries Professional Services Automation Software was made for:
IT Professional Services Providers

Engineering Firms

Construction Companies

Law Firms

Health Care Providers

IT Department of a large enterprise

The R&D arm of a pharmaceutical company
PSA Software is made for businesses who feel pains like:
Increasing competition

increasing customer expectations

Globalization

Scarcity of skilled resources and technological innovations

Too much pressure to maximize revenues

High project costs

Difficulty producing more measurable results

Low productivity

increasing customer satisfaction

increasing amounts of administrative tasks

Increasing technology issues

Too much-unmanaged workloads

lack of decision making information
PSA Software is made for businesses who want to improve on things like:
Managing demand for projects or services

Searching for, assigning and scheduling resources

Managing projects

Tracking work actuals

Billing or charging back

Acquiring knowledge, collaboration, and communication

Managing requests and other process workflows

Requisitioning purchases

Integrating

Reporting and analysis
PSA Software is made for businesses who ask questions like:
Are billing rates used in an optimal way?

Can project costs be managed more effectively?

Are resources being used effectively?

Can billing cycles be shortened to reduce accounts receivable and increase cash flow?
PSA Software is made for businesses who have company goals like
More efficient client invoicing, reducing A/R and increasing cash flow

Improved resource utilization, productivity, and efficiency

Accurate revenue recognition methods

Efficiently tracking project costs for R&D or capitalization purposes

Improved reporting and analysis capabilities, leading to more effective decision making
How Will Professional Services Automation Software Change Your Business?
"The whole purpose of Professional Services Automation Software is to improve the workflow surrounding the management and delivery of project-based services. The ultimate benefit of a PSA solution is going to be increased productivity and profitability within a short period of time. The ability to achieve such benefits is based on the productivity of the company's resources and the technology used in order to perform projects or services more effectively." (Rudolf Melik)
Are you familiar with the story of a Professional Services Shop having to look up all of the pieces of one accounts relationship, logging into one tool, clicking around finding a piece of information then having to go to that other tool? Kind of like that time you had to look up that Customer John, so you clicked through your calendar to find the date you met with him, then had to go to Quick Books to find how much it was, then had to go to your email to find out what it was about and then finally got on to do what you wanted.
The unfortunate part is that this usually is more often than 'that one time.'
In the book, PSAs Optimizing Project & Service Oriented Organization by Rudolf Melik, the authors outline what it feels like to be working in a professional services organization without a PSA software. Inspired via the imagery shown in the book, we have recreated the feelings of working in this type of organization.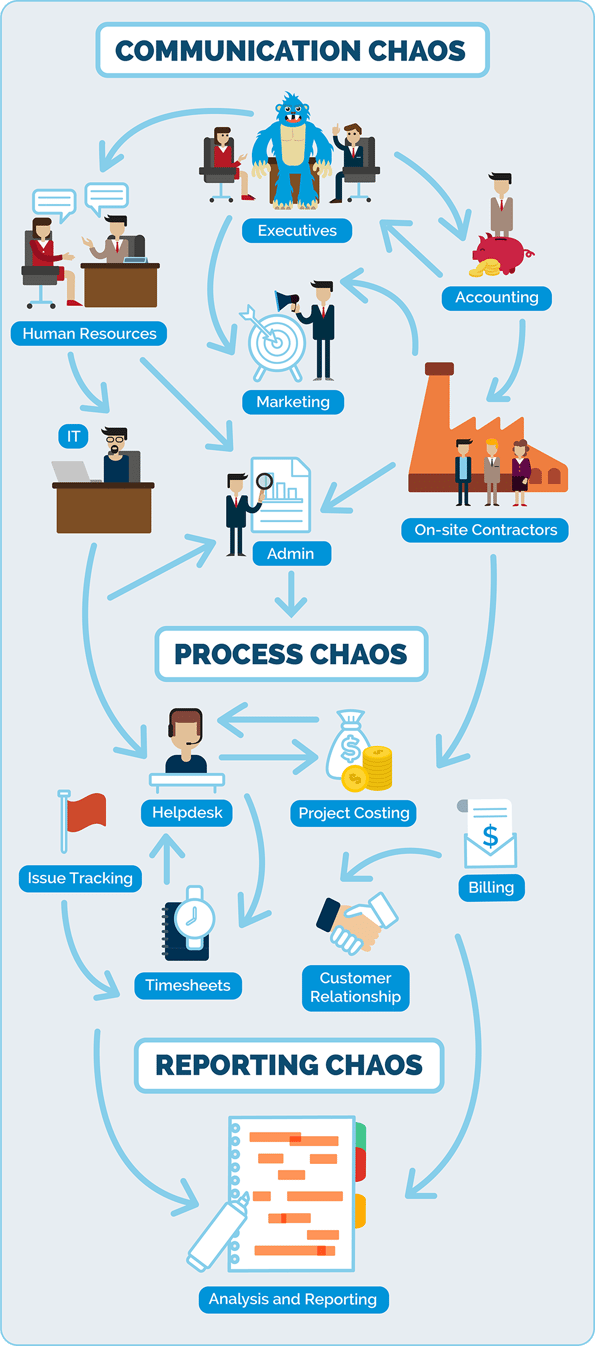 If you are reading this, you may know exactly what this feels like.
The image emphasizes the pains of companies at an enterprise level, but can certainly be felt by companies of all sizes. Before a Professional Services Automation tool is implemented, things can be quite complicated, messy and painful to track down. Information is fragmented all about, billing hours are lost, data is lost and business feels like, as portrayed, an array of wires with no systematic reason.
A second image shown inspired by Rudolf Melik portrays the intended effect a PSA software tool will have on a company and how things will be different. It is a fantastic visual representation of the simplicity and effectiveness of the tool.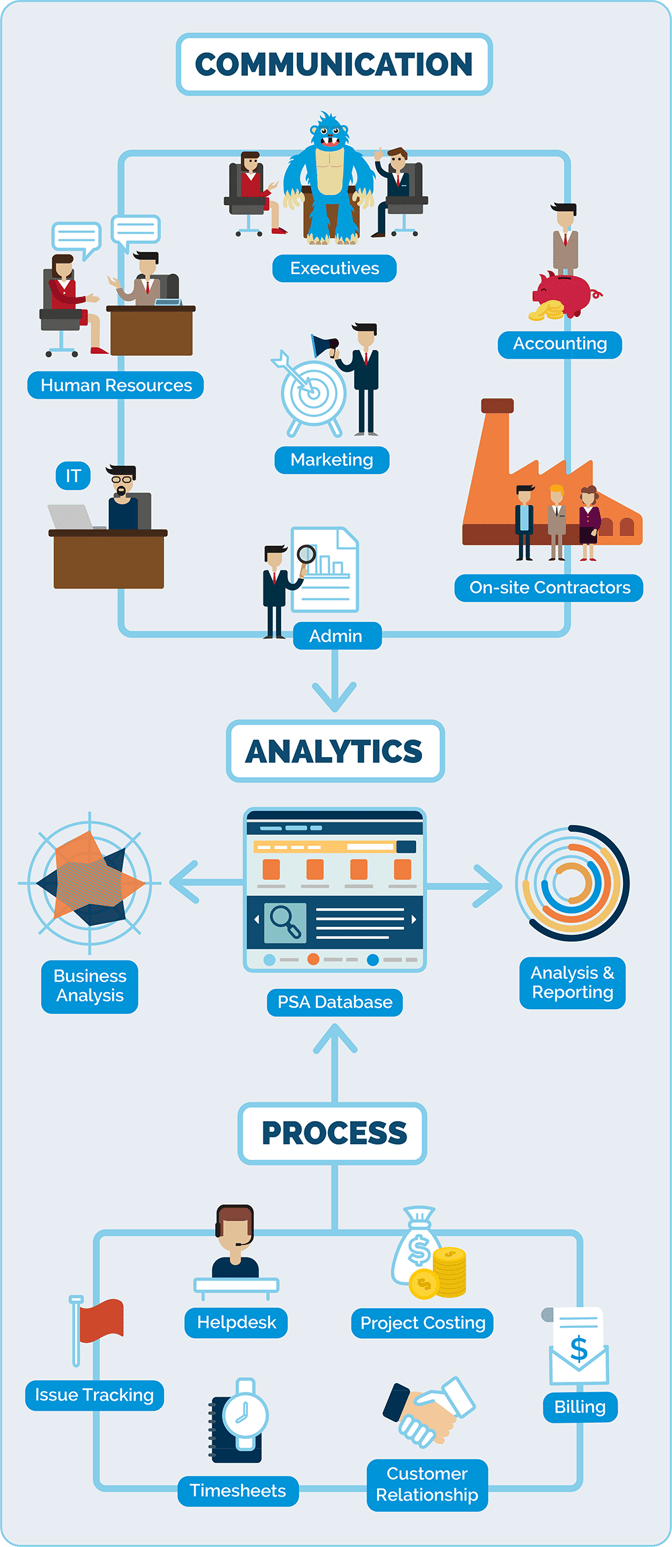 Professional Services Automation engages the core components of a business and consolidates them into one allowing all of the most essential operations to be run through on central system. As shown in the image above, a PSA tool becomes the heart and the engine of your business, in a good way. It becomes the single resource for all key operational items. Not only does it organize, but it will consolidate processes.
Calling upon the story we shared above where someone would have to click through three different tools to get all of the necessary information on an account, instead, a PSA will change your business this process as easy as typing in the name of who you are looking for.Then you are done. Additionally, many PSA tools have quick integrations into accounting software like QuickBooks. Not only does this create an easy trail allowing you to follow an account but the full process. You can see what they were billed, why they were billed and when they were billed. Information is much more accessible.
For example; Within SherpaDesk, you are able to open an account, click 'bill', all of the information is populated for that account in a new QuickBooks invoice and then you just hit 'send.' Done.
A great analogy is to think of a hardware company that makes all of their parts in-house vs. outsources many small components. A PSA tool is the equivalent of having everything done in-house. By having a single tool made by one team, all of the most essential pieces of a business are made to seamlessly mesh with each other. Processes stack on top of the other, not just with great user experience and design but also through advanced reporting that is called and communicated to the right people without stress.
Risks and Rewards of a Professional Services Automation Software
As has been discussed, PSA tools are a major commitment for a business. It becomes 'the' solution a company will run almost all of their major operations through. As we have emphasized greatly throughout all of this, much of your experience with your solution is going to be based on who your provider is.
Misgauging your needs or their features can lead to an incongruent experience that is uncomfortable for everyone. With this in mind, choosing the right provider is one of the biggest payoffs and potential mistakes you can make. Choose wrong, and you could be locked into a contract for years with a solution that does nothing but eat away at your productivity and morale.
Common PSA Risks and how to tackle them
Risk: Onboarding a tool that is too complex for your needs can lead to substantial IT infrastructure spending, unproductive use of critical IT resources, expertise and rapid obsolescence.

Explanation: It can be appealing to select a tool that is the most functional. Something that has features you 'can grow into.' This is dangerous because PSA solutions are made with a specific business size in mind. If you don't fit that mold, there will be lots of time spent hurdling over features you don't need that are built into the process of the solution you have.
Solution: Evaluate all options. Evaluate your needs. Pick something that delivers on what you need right now and nothing more.
Risk: All of your tools and operations are based on the reliability of your one provider.

Explanation: Being that all of your tools and business will be in one place, this also means there is a risk associated with how reliable this company is. If this company's main server goes down, you go down. If that entire company goes down, can you get your data out of the black hole that swallowed your provider? These a big risks.
Solution: There is nothing wrong with new companies as everyone has to start somewhere, but ensure they have things figured out. Ask where their servers are located. Ask who provides the servers to then. How many do they have? Ask about the previous business ventures of the team. How long has the team been together? Who are their investors? How does your provider handle support? These are all appropriate questions when betting on a company.
Risk: PSA tools of late are Saas tools (Software as a service) as they are hosted online through the cloud. Be sure that your provider is on top of their support because you will likely face issues down the road. This is inevitable.

Explanation: The major benefit of Saas is that the host company frequently makes updates, and keeps your tool on the cutting edge without you ever having to change a thing. The difficulty, however, is that sometimes these updates and new configurations will mess up parts of your business process. This is part of technology and will happen within every software company at some point. However, what is critical is how a company handles these issues. If the company is investing only into new product features and sales with no emphasis on support, you will know their business model is about getting customers. Not making their new ones happy.
Solution: Ask tough questions about service outages. How do they handle it? Can you call management direct? Do you have a name and support professional you can rely on every time or do you have to bet on a ringback tone? We recommend looking for a team who is willing to go the extra mile to ensure you are taken care of. How they deal with issues and how they prioritize your needs is vastly important, especially when you find yourself with the servers down.
Really, minimizing risks comes back to knowing your needs and what your providers offer. We will cover more on this in the next section, but for now, onto the good and the better about PSAs.
It has been found on numerous occasions and can be cited quite liberally that PSA tools pay for themselves within months. This has been mentioned by SPI Research as well as in Rudolf Melik's book PSAs Optimizing Project & Service Oriented Organization.
To further understand the value of a PSA Solution, we have pulled a graph from a SPI (service performance insight) research study published in August 2012. The study conducted by SPI surveyed over 1000 mature professional service organizations. The data found that 70% of the organizations that had adopted PSA tools and uses this split in data to create a comparison of various KPI's (key performance indicators) to measure the impact of the software vs. companies that do not have the software.
Using this graph and few calculations we look to investigate the potential rewards of a Professional Services Automation Software.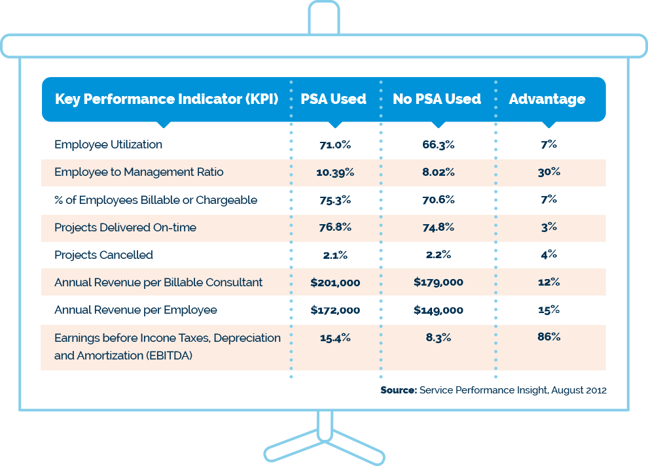 In the graph above, it may be noted that the benefits of companies are quite vast. While it can certainly be noted that the graph speaks for itself, we have listed out a few things can be taken away from this data.
Employee utilization is up

Managers are able to manage more people

Agents are billing more hours

Projects are delivered faster

Less projects are being canceled

Each agent is making more

Each respective employee is making more

Earnings are up.
So while the ROI is shown quite well above, we have presented an equation of a potential company below for reference based on the data above -- specifically the increase in employee utilization rate of 7%.
Potential ROI from a PSA Software
Based on the above equation of a billable utilization increase of 7%, we can make an estimate for our sample firm

In the standard professional service firm, each employee you have will work approximately 2,000 hours per year

Let us suppose the billing is at $100

Using information from the example, let us suppose this sample firm and their employees are only capturing 68% of their 2,000 hours before adopting a PSA solution

2,000 x .68 = 1360 billable hours

1360 billable hours x $100 = $136,000 in revenue per consultant

Now let us suppose you onboard a PSA solution that has a 7% increase in billable utilization bringing your billable hours up to 75%. This equation changes

2000 x .75 = 1500 billable hours

1500 billable hours x $100 = $150,000

This is an increase of $14,000 of potential revenue per consultant.

Let's suppose your PSA tool charges $80 per employee per month. With 12 months of the year, the cost to the firm per employee comes out to $960 a year with a net increase of $14,000 per year per employee.
If you are curious, Rudolf Melik signs us off of this section explaining the quick ROI.
"The quick ROI is primarily due to the tailored nature of the solution, quick implementation of full featured relevant functionality, modern user interface demanding minimal user training and lower purchasing and ongoing maintenance."
How to Select the Right Professional Services Automation Software for Your Business
If you have come all of this way you are likely wondering how to find and select the right PSA tool for you and your firm. Throughout this piece, you will notice we have placed a great emphasis on the selection process. We have mentioned this before but this is mainly because of how imperative the tool to be an equal match to your core business needs. This should give you all the resources to ensure you vet your company and your solution to the best of your abilities. In Rudolf Melik's book, he emphasizes this point;
"The true measurement of the effectiveness of your tool should be noting whether or not it is reducing costs or your increasing services revenue on a per project basis. To gain full benefit from installation, it is likely that a PSorg will have to evaluate its internal processes."
What this quote is saying is that through one way or another, the ultimate bottom line benchmark for the success of this tool should be a measurement of how effective it is at growing profitability or reducing costs and the best way to determine if your business processes has space for either of those two benchmarks to move in your favor is to evaluate your processes to identify weak links.
How to Evaluate your Internal Business Processes
Where to begin on this is going to vary with the size of your team. Most commonly, the best thing to do is to map out the communication structure to your organization and interview key members. If you are a small business under 10 employees, this usually isn't too complicated but still worth doing. For solo professional service ventures, there is still some value to gain from the questions in this section that you can ask yourself.\
Start with an open mind

By beginning a process evaluation with a biased assumption of where you may have issues, you are setting yourself up to make up issues. Keep an open mind, listen to employees and listen to yourself.
Begin with interviewing your team (or yourself if you are solo)

Use employee interviews to determine how well individuals are trained for their jobs. This is key in discovering that maybe inefficiencies aren't in your tools, maybe it the people. Maybe it is both. Both need solving. The interviews can also shed more light on how well you are educating your employees. As an employer, this is a two-way street.

Questions to ask your employees (or yourself)

What do you think the number one objective for our business is?

What role do you play in achieving that?

How well prepared are do you think you are for this?

What resources do you need more of?

What stops you from doing your job?

How do you know when your job is done?

Can you describe the latest analysis of your process?

What have you done on your own to improve your normal job functions?

What are the customer requirements for an order that moves through your process system?

What is the most common difficulty you face with customers?

What part of the job do you wish could be done by someone else?

Who do you communicate with most?

How is the communication between you and them?

What 20% of daily activities do you do that gives you the most stress?

What 20% of your activities gives the most return?

Study Critical Processes

Based on these questions, you will likely find a few items that will stick out. This will give you something narrow in on. Next, we recommend watching from afar and trying to confirm any issues you have may have spotted.

To do this, start by determining a study.

Identify the critical business processes that need to be reviewed by breaking down and rating risk areas.

Understand the availability of continuous data for those risk areas.

How will you measure something as inefficient or not?

How will you observe it without adding a bias?

Are there any special rules or parameters necessary?

Have a team meeting to discuss your findings

Regardless of whether or not you buy a PSA solution, you will discover lots of valuable information for yourself from this and it's important to let it marinate.

Speak with your team and discuss what you found.

What are the problems?

How can they be solved?
Once you have reviewed your processes, if a PSA seems right for you, it is time to evaluate your tools. If you are still unsure, if you have pains such as this, a PSA is probably for you.
Scarcity of skilled resources and technological innovations

Too much pressure to maximize revenues

High project costs

Difficulty producing more measurable results

Low productivity

increasing customer satisfaction

increasing amounts of administrative tasks

Increasing technology issues

Too much-unmanaged workloads

lack of decision making information
Evaluation of a PSA solution should not be focused on features and functionality will not yield the most effective solution for any organization; nor will choosing solely on the basis of price or ROI. Which solution with be most effective depends on various factors. Thus, basing a decision on any one or two factors will lead to a less than optimal result.
Consider these specific factors
Functionality

: Do the features match up with your greatest needs?

Consistency & integration:

Automation of business processes is not enough; all modules within a PSA solution must be tuned and integrated to meet the needs of the organization using the application. Be wary of tools grown via acquisition as their solution may be modularized and integrate poorly.

Affordability:

cost is always a consideration. Property industry research will uncover cost considerations, including license fees, support, hardware, consulting and customization costs.

Usability:

a system is only as good as it's usability. Users, managers, and executives will adopt applications that are straightforward and intuitive to use. Tools that require little to no training for the average user have an advantage. The quickest most powerful solutions will not be effective if they are too cumbersome to use.

Vendor viability:

evaluate whether the vendors will be around in years to come to ensure they are always supporting and developing their solution.

Other important things to look out for:


Consider IT support requirements

Make sure that agreement clauses meet your needs and not just the software vendors needs

Consider what exit strategies you have

Know exactly what you will be paying
Evaluate the company making your tool.
Ask questions like this:
Who is your normal customer?

What are their reviews?

When is a time your company did not deliver on what you promised? (this happens to everyone, they are good if they can own up to mistakes)

What makes your tool different?

Should I buy this tool?

Who else should I look at? (good companies are confident enough to show you who else is out there)

Are integrations and customizations efficient and cost effective?

Does the company provide an SDK/API? (software dev kit/app programming interface)

What databases does the vendor support?

What levels of support from this team can be expected?

Do you have an in-house IT staff?

What is the average time for reported bugs to receive fixes or workaround?

Are you on the cloud and who is your provider?

What happens if your servers go down? (they will say it's rare, this is not an answer to your question)

What type of security is built into the system?

Will my data be safe?
Each PSA tool has its own strengths and weaknesses. It is all about evaluating what is more important to you when measuring costs, benefits, risks etc. Careful evaluation of the technology must be performed prior to any investment in such applications. Many businesses make claims that their technology will satisfy businesses' long-term needs; however, there is no silver bullet.
If you have any difficulties, certainly reach out, if not, let's move onto the final segment.
How to implement your software.
How to Implement New Professional Services Automation Software
Implementing a new software within your business is always a big step. Hopes are high that better time are to come. However, this time can be stressful as all things routine are disrupted. A well-thought out implementation plan executed by your team is a determining factor in the successful adoption of your software for attaining goals and objectives set for the project.
The three most common issues noted of difficulty during a new software implementation are:
Having to learn while operating

Explanation: whether you are a one man shop or a large enterprise, business doesn't stop, especially for service industries. New tools, especially a PSA, are total game changers forcing you and your team to learn on the fly. This can be tough.
Solution: Capitalize on KB articles and training. Most often there is training offered by the company you are working with, or at the very least, there may be third party training. This is recommended.

Poor training

Explanation: Training doesn't just start with the software but employees ability to handle new tools and stressful times.
Solution: Training that doesn't require huge blocks of time, such as on-demand support via instant messenger or email, or a series of brief, informative videos, is ideal

Data entry

Explanation: Handling data entry along with normal day-to-day business operations can be stressful on all levels, and can be one of the biggest challenges involving business software changes.
Solution: Ensure your tool has data uploading capabilities. Check to see their policy or pricing to upload. What is the cost? Can you do it yourself?
Additionally, here are the eight top considerations to avoid other issues:
Make a Timeline

You must have clear objectives and a timeline for them

Prepare for impact

You must document the scope of the implementation and the impact it will have on existing processes

Assemble a team

Based on your analysis, assemble the appropriate internal and external team to complete the project on time.

Put in the Prep Time

Test and troubleshoot the technology. Training employees who will use the system. Schedule the proper steps to execution.

Be Realistic

Even with the best training and testing, there will still be hiccups along the way. Processes won't work as planned. Employees will get frustrated.

Keep Communication Open

Employees should never feel embarrassed to raise their hands and ask questions. In fact, companies should be sure they are asking for input along the way and not just relying on employees to speak up.

Have Long-Term Support

Be sure there is plenty of extended support to help employees with anything that comes up. This can come in the way of a FAQ sheet, customer service line to call or whatever.

Remember the Bigger Picture

The whole point of upgrading software is to benefit in the long run. Sometimes it is easy to lose sight of that goal as the minor annoyances of implementation
And that is it. We hope your selection of a PSA goes well. If you have any further questions, certainly feel free to reach out to our team here at SherpaDesk, we know PSA's.
And if you are convinced PSAs is the tool for you. Give us a call. We make a really great PSA.
Signed,
SherpaDesk