The yearly CES Trade Show in Las Vegas is the prime gathering of technological innovators in the world, where next-generation ideas and thinkers are introduced. This year, our Man in Silicon Valley, Josh Bradshaw, explored the show and filed this report.
CES 2018: The Energy of Innovation
By Josh Bradshaw (Technologist, our Man in Silicon Valley)
Energy. This word encapsulates all that CES represents for the technology industry and all of its participants, vendors, journalists, marketers, sales reps, and of course, those special tech lovers and early adopters who descend on Las Vegas every January to taste, smell, touch and feel the future. Who are they and what do they experience?
The typical first encounter with the energy of CES is that attendees expend a lot of it. Most participants walk over 10 miles per day. The conference is huge and spread across multiple hotel meeting spaces and hotel rooms, along with the main show at the Las Vegas Convention Center. Participants have to constantly decide whether they should walk or wait in line for shuttles with thousands of others. First timers at CES will be seen walking around on day one with fashionable shoes that will leave them limping by the end of the day and envious of those veterans who choose functional running or hiking shoes to walk the show.

They're also attuned to energy because of tech's dependence on it. Mobile technology dominated attendees of CES for the first time well over a decade ago, and show veterans know that a spent battery can mean missing an important meeting, dinner, or tweet about the hottest thing at CES this year. They also don't want to be unable to snap pictures or video during the show's biggest reveals. This means a lot of crowding around charging stations to keep their cell phones charged up.
New Tech. Old Problems.
Energy had a very special meaning this year for those whose tech gadget geek-out session got disrupted by the infamous #CESblackout of 2018. I was at the Las Vegas Convention Center when things went dark. The first thing I said was, "This is a smart building problem". How could this happen at a conference with the very people who are working on solutions to detect and preemptively prevent power outages in buildings? Oh, the irony that the electricity would go out at an electronics convention! There were gripes and grumbles, and yelling and threats when security would not let people into the dark convention center for important meetings they'd scheduled with buyers and sellers.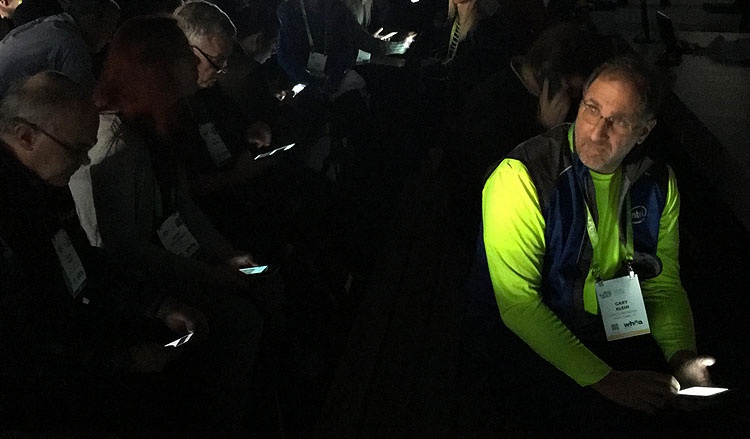 CES attendees sit down in the darkened Las Vegas Convention Center to enjoy the glow of their electronic devices and give their feet a rest during the infamous #CESblackout of 2018.
Two hours later the lights went back on to cheers and clapping (while sadly, there are still over a million Americans without electricity in Puerto Rico). Do I digress? I think not. What's the point of all this newfangled technology if we can't fix our more mundane technological needs like issues with the power grid?
Smart Cities
Even though it was tucked away in the Tech East location, the CES Smart Cities Showcase buzzed with activity. From smart power grids and smart buildings to autonomous transportation, the "Smart City" is becoming a thing.
There was only one session in the conference on "Smart Buildings", and it was packed. In reality, smart building technology is one of the low hanging fruits that cities, campuses and corporations can implement in order to leverage AI and IoT to improve their work environment for the benefit of occupants. Part of the "Smart Cities" and "Smart Buildings" philosophy is to streamline maintenance and prevent issues like blackouts and equipment failures, and even serve as an early warning for potential fires or other modern threats. Smart building technology is a space where IT merges with the new hardware technologies to operate all the systems that run modern buildings. Imagine a near future where a smart building generates its own maintenance tickets. Or a smart building that can monitor its IT equipment and generate tickets for network administrators and helpdesk managers by harnessing the capabilities of their IT Helpdesk Ticketing Software.
Autonomous Vehicles
One area of major advancement in "Smart Cities" technologies in 2018 was autonomous vehicles. Several autonomous vehicle technologies were showcased. But in Las Vegas, you don't have to be at CES to experience an autonomous vehicle. I took a ride on the new free shuttle in Downtown Las Vegas that is a level 4 autonomous vehicle. Anyone can ride this vehicle and there is an operator on board to make sure folks stay seated with their tray tables up and seatbelts securely fastened, but the shuttle drives itself. Check out the vehicle in operation in this video.
Robotics Are Here to Stay
The robotics area at CES was full of energetic robots. This section grows every year as the quantity and quality of robots increases. This year the exhibits were an exciting blend of robotics and AI. Two really caught my eye. The first was a ping-pong playing robot. I'd heard about ping-pong robots before, but a robot playing ping-pong with a human is something to behold (also seeing the robot win every game was really awesome!).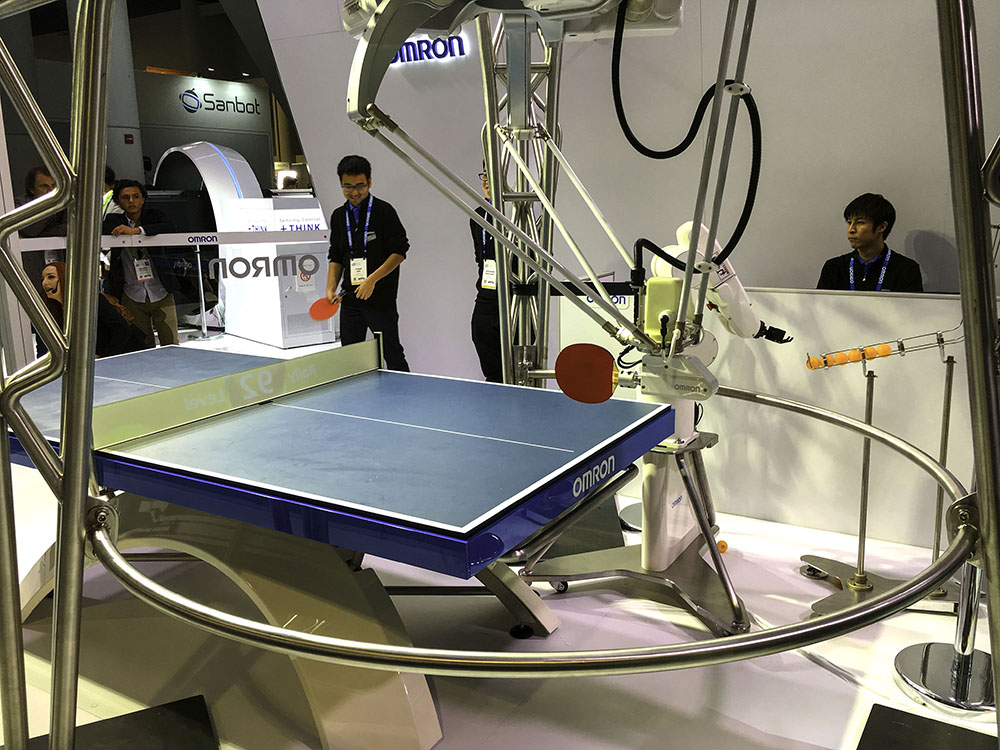 Ping-Pong Playing Robot at CES 2018
The second was a robot that used AI to play scrabble with large cubes. So many technologies have to come together to enable both of these robots to perceive and react to external stimuli and respond appropriately.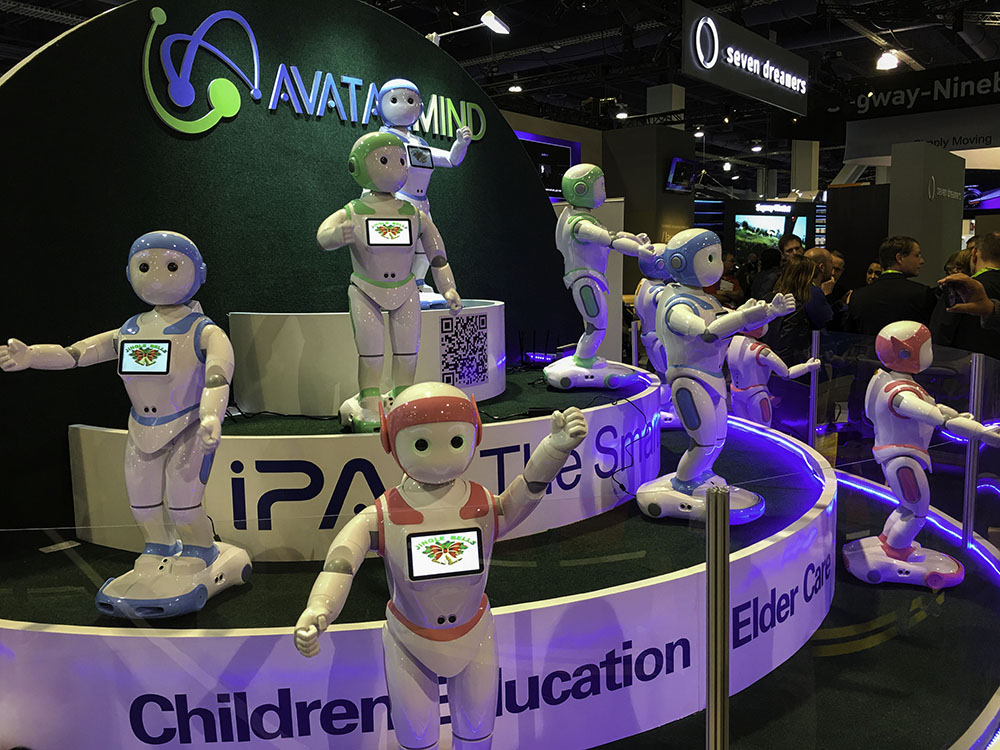 Robotic Section at CES 2018
There is so much more that happens at CES than I am able to share here, but I've come away energized and bullish for innovation in 2018.
The winners from CES 2018 will be those that remember innovation isn't just about technology, but about solving problems. Indeed, the winners will understand that you don't work for technology; you make technology work for you.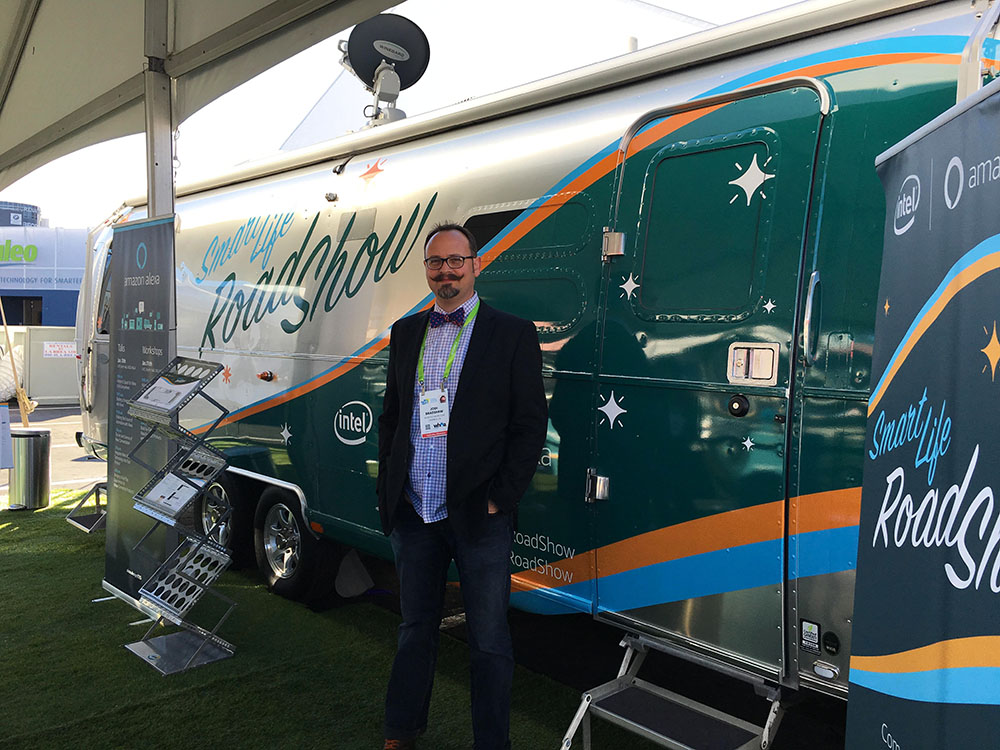 Josh Bradshaw "Our Man in Silicon Valley" exploring CES 2018