The IT skills gap is a problem shared by every single business on the planet. It does not discriminate against industry, size or region. It does not care about developed or underdeveloped economies. Like a next-generation world war (with a Sci-Fi twist) — we are all in this together. Luckily, there is an unlikely hero that might just help close the gap. Helpdesk technicians, it's time to don your superhero capes!
But Just How Bad Is Your IT Skills Gap?
To shed more light on the situation, Korn Ferry conducted a large-scale study across 20 major global economies. According to their research, things could get a lot worse. The report predicts that the shortage of skilled IT workers will reach 3.5 million in the U.S. by 2020.
THE REPORT ALSO ESTIMATES THAT THE GAP WILL CONTINUE TO WIDEN BY 6.5% ANNUALLY, TAKING US TO A 6.6 MILLION PERSON SHORTAGE BY 2030.
To put this figure into perspective, 6.6 million is roughly 10 percent of all university graduates. Already, we face billions of dollars in unrealized revenue. By 2030, lost revenue is projected to exceed $162 billion — higher than any other country observed in the study. The U.S. currently holds rank as the world's leading technology market. If we allow our stranglehold to slip and fall victim to the widening skills gap, it could pummel the U.S. economy and our posture in the global market.
• Financial and Business Services
• Technology, Media, and Telecommunications
• Manufacturing
So What Gives?
There isn't a single source to blame for the IT skills gap, but we can point fingers at two significant contributors:
1. THE STUNTED LABOR AND JOB MARKET
Technical jobs that existed a decade ago are going extinct thanks to advances like AI and machine learning. Likewise, the technical jobs we know today will likely suffer the same fate. Technology is moving at warp speed, but the marketplace (and its business leader constituents) isn't picking up the pace.
2. AN ARCHAIC EDUCATION SYSTEM
What we learn in post-secondary schooling no longer carries us through the entirety of our careers. And even if it did, less than 3 percent of college graduates are degree-holders in computer science or information systems.
So How Do We Close Our IT Skills Gap?
Finding a solution to such an agile and far-reaching problem is like trying to cure cancer. It can be done, but it won't be easy. Most notably, two things need to change:
1. HOW EDUCATION SYSTEMS PREPARE STUDENTS FOR A CAREER IN IT
Considering our growing dependency on technology, IT-based education should begin in grades K-12, not reserved for high school and post-graduate education. Likewise, higher education institutions need to implement experiential learning that guides students through real-life simulations and better prepares them for career success. We can learn history from reading a book, but we cannot learn a technical trade like IT without first-hand, hands-on experience.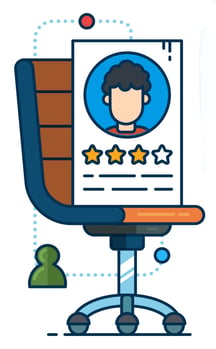 Unfortunately, the education system's role in our sprawling IT skills gap goes far beyond when and how we educate students. The fast pace of change in technology makes the development of new programs a constant game of cat and mouse. With financial strain and an everlasting battle for better graduation rates, many institutions simply cannot keep up. Additionally, remember when I said the IT skills gap impacts every single industry? Even if schools and universities had the resources to develop better IT programs and coursework, they still don't have enough qualified teachers and professions to lead IT education.
To address this issue, institutions will need to change how they hire and retain teachers. For example, requiring a degree that is irrelevant to a candidate's curriculum. Schools will also need to form partnerships with local organizations and leverage internship-like opportunities that expose students to skilled technical professionals and provide real-life experience solving technical issues.
2. HOW EMPLOYERS HIRE AND NURTURE TALENT
Technology is so deeply entrenched in business operations, we have to change the way we develop organizations around it — period. Instead of seeking and hiring the mavericks of IT, business leaders need to get creative with their hires and search for transferrable skills that can be honed in-house. Additionally, organizations need to adopt reskilling and upskilling programs that elevate employees from within instead of letting go of employees who no longer fit the bill or seeking outside talent.
Reskilling = Replacing
Reskilling an employee means providing training and education to replace outdated skills with new skills. Reskilling enables the employee to perform an entirely different role to help the organization meet changing demands in the industry.
Upskilling = Updating
Upskilling an employee means adding new skills to an employees existing repertoire. By enhancing their skills profile, employers enable employees to evolve in their current role or take on new areas of expertise.
Helpdesk Technicians to The Rescue
Helpdesk professionals — get ready! Because of your desktop support experience, you make ideal reskilling candidates for startups, small-, and mid-size businesses who desperately need software engineers, infrastructure systems administrators, data engineers, and other specialized IT talent. As the skills gap continues to put stress on the job market, expect your market value to go up.
How Can You Prepare?
Start by gaining as much experience as possible. By working with the latest helpdesk software, you can manage your pace and progress more efficiently to develop as much IT support knowledge as possible. You will also need to adopt a lifelong learner mentality and prove that you are motivated enough to develop your skillsets. Even though the skills gap looks bleak, the future is bright for you!
SherpaDesk is the definitive helpdesk solution for all your support, project management, and billing issues. Ready to get a handle on your small business?
Power your helpdesk with your Free Online SherpaDesk Support Desk Software.