To Increase Your Team's Efficiency
Asset management is an IT manager's recurring nightmare. We've all been there before. Your manager approaches your desk and asks how many projectors need replacing. You know that somewhere amongst your emails are several requests for projector replacements.
But with all your other tasks, you never managed to find time to create a "replacement projector" spreadsheet. Your manager tells you to take five minutes to locate the information, and they'll be back to find out the answer.
You realize you won't be able to find the data you need in five minutes. You're doomed. You're sure to get fired! Instead, you beat them to it and walk out, handing your notice in as you leave.
If only you had a way to manage all your assets...
Okay. It's probably a lot less dramatic than that, but not less stress-inducing, and in all seriousness, you don't want to not have an efficient system to manage all the IT assets for your IT help desk or PSA business.
Let's take a look at how an asset management system (like the one included with SherpaDesk's PSA SaaS) can help you dramatically increase your business's efficiency by reducing hardware and software spending. This system provides better control of your IT assets lifecycle while helping you improve your IT help desk's security and reliability.
One of the coolest features of SherpaDesk's asset management tool is the ability to check in and out hardware assets with a simple handheld scanner.
Check out this video demoing how easy it now is for your tech team to assign and check in and out assets.
The Need for an Asset Management System
Businesses of all sizes: small, medium and large can make use of an IT asset management system like the one included with SherpaDesk's PSA software, but surprisingly many don't. This is due to many reasons, including limited budgets or staff. But failing to use a proper asset management system can lead to long-term problems, like being unable to identify when a particular piece of software or hardware needs updating.
This is particularly critical for IT managers working in the education field. With large campuses to oversee and thousands of Chromebooks distributed amongst students, SherpaDesk´'s asset management tool plus barcode scanning has proven to be a lifesaver for IT pros in the education field.
We all know how useful a good asset management tool is. But do we know exactly what it is?
A good asset management system stores an aggregation of data in a real-time centralized system. This method of storing data means there is never any misinformation due to manually tracked or fragmented data. Tracking assets through a centralized system leads to an overall improvement in your bottom line.
Using asset management for your inventory means never having to deal with hardware and even software shortages. You're able to provide better accountability for any assets in your possession, especially if you operate over a large network or organization where it would be useful to see an overarching view of all your inventory. An IT asset management system will allow you to make decisions proactively rather than reactively.

There has been a huge rise in the number of 'bring your own device' (BYOD) businesses where employees bring their personal laptops to work. Other companies may issue company-owned devices like laptops, smartphones or tablets, but allow their staff to take these home.
Without a proper system to track the status and whereabouts of these items, it's easy to see how they could become misplaced.
So far we've looked at the importance of having an asset management system in place, and the types of things your business might use it for, but how exactly does it make your business more efficient?
Is Your Equipment And Software Up To Date?
Whatever niche your company is in, if you have equipment that uses software, you need to track what assets you currently have and what needs replacing or updating.
Software licenses for many pieces of hardware are a pain to manage. Most laptops and Chromebooks require updating or renewing, and many will be throughout the year, never all at the same time. How do you know if it's time to defer a payment or reallocate money for new software? How do you know whether there is even money available to pay for the new software for all your hardware distributed amongst your team or campus?
Using a specialized asset management software like SherpaDesk will give your entire team a holistic view of what pieces of hardware are available to use and which ones aren't. It also gives IT managers a birdseye view of what hardware assets are assigned to whom.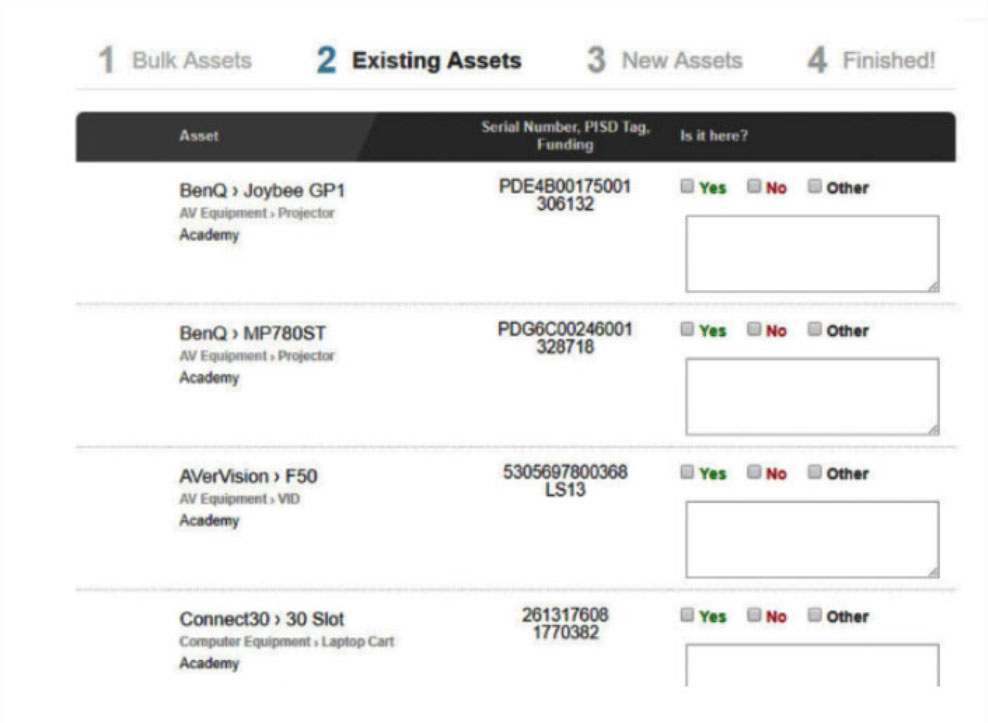 Don't fall victim to a software compliance audit; it's better to take the proactive approach and begin using asset management software to reduce software expenditure by knowing exactly where your hardware is and whenever you need to renew their software in order to ensure that you're always compliant with licensing requirements.
Are You Making Unnecessary Purchases?
Regardless of what business you run, cash flow is always going to be a problem. Having enough cash to run your business, pay your staff and make a profit is something decision makers think about a lot. You can save a lot of money by using an asset management system and only buying what is necessary and, secondly, understanding when hardware or even software needs to be changed without missing any upgrades, or upgrading when it's not necessary.
For many companies, their IT budget is continually stretched forcing IT helpdesk managers to do more with less.
If you want to cut costs long-term and still run an efficient business, an IT asset management system will help you understand where and how hardware is being deployed on a departmental level as well as an overall business level.
Improve Your Security with a Dedicated Asset Management Tool
Imagine if everyone had access to your business's budget data. Imagine if everyone was able to edit the budget data. Keeping track of inventory and budget using old traditional methods like spreadsheets can lead to a high rate of errors and increases the risk of a security breach.
You don't want to house your data in a shared folder as it's more susceptible to hackers or intruders.
Likewise, you don't want to provide everyone in the company with access to the entirety of your company's asset data.
Instead, if you want to lower the chance of a security breach, use an asset management system to ensure that only the right people with the right level of clearance have access.
When it comes to security, an asset management system doesn't just help your team with hardware tracking issues, but software too. When it comes to needing to dispose of old or unwanted hardware, it's good to have an overarching view of what needs to be disposed of and how.
This is especially true for larger companies, where mitigating the chance of theft of hardware (which may contain sensitive information) is complicated by having their employees spread all over the country, or the world. Without a robust asset management system, you won't be able to track or monitor where your assets are, their history, and their value.

Picking The Right Asset Management Tool
Humans, by nature, make mistakes, and incorrect user input leads to inconsistencies further down the line. When it comes to manually tracking assets, you need to think about safety. Shared spreadsheets offer no safety or data protection, leaving your team vulnerable.
Ensuring Asset Management Efficiency
Once you start using an asset management system, it won't be efficient unless you make sure the system is accurate. This should not be overlooked.
IT Helpdesk managers and business owners need to ensure that they have company-wide procedures, policies and governance practices for their IT asset management system in place. This will ensure that their teams won't run into problems further down the line.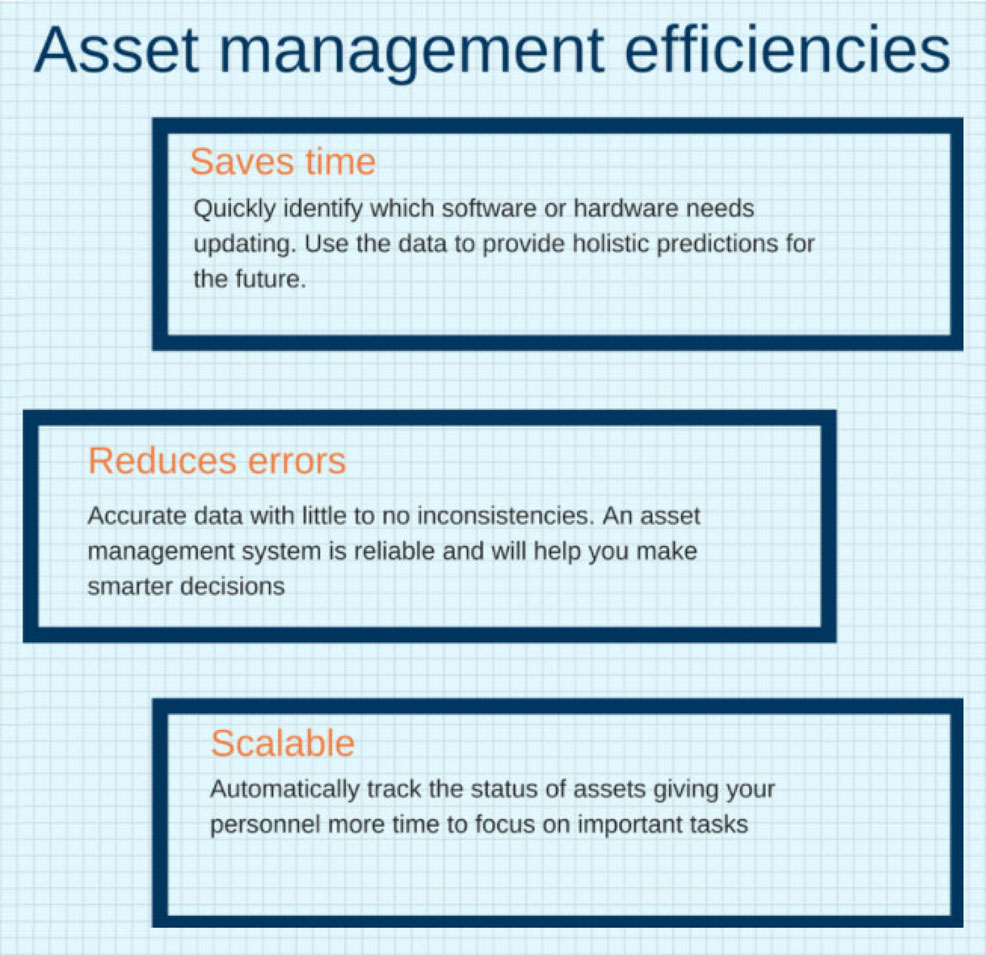 Asset Management is not a one-time thing. Managing your assets should be a practice that is ingrained in your company ethos and culture.
Takeaway
In its most simple terms, asset management involves collecting inventory, contractual and financial data and storing it in a safe, centralized system for your team to use. A good asset management system will then allow you to analyze all this data to ensure greater management of all your hardware and software during its lifetime. Using an asset management system will give you a holistic view of all the software and hardware within your company - updated in real time.
There are many benefits of using an asset management system, but its greatest benefit is greater efficiency for your business.
If you want to mitigate the risks associated with managing your company's assets, and have a more effective overview of your systems, while routinely making sure you are both compliant and safe, picking the right IT asset management system is crucial. This is a tool that your team can't afford to be without!