AR Training & Support
Hearing someone discuss augmented reality (AR) in the workplace is a lot like hearing someone talk about flying cars or colonizing Mars. Sure, AR is a reality (remember the Pokémon Go craze?) But when will it be universally practical? As an IT helpdesk pro often tasked with implementing new technology at your company, you probably can't help but wonder when we'll see more AR-powered business applications for small to midsize companies that don't have billion dollar budgets.
Surprisingly, it's likely going to be a lot sooner than you think.
So how exactly will AR tech affect the future of IT? Today, we're sharing three of the biggest impacts you can expect.
But first: let's take a quick look at where AR has been, and how quickly it has evolved.
The Rise of AR Technology
The idea of mixing a simulated environment with a real one is something humans have deliberated for generations. The term 'augmented reality' was coined by a former Boeing researcher in 1990, but the concept of AR dates back much longer. In fact, L. Frank Baum (the author of The Wonderful Wizard of Oz) discussed the idea of using electronic displays to overlay data into real life in 1901.
Since then, AR tech has blossomed from a wild idea into a very real technology used in everything from video games to rocket science. In the past decade, AR has rapidly advanced in sophistication to the point where it's quite literally available in the palm of your hand.
When you consider it has already been more than five years since the release (and subsequent flop) of Google Glass, and nearly two years since Pokémon Go hit the App Store, it's really not that strange to assume your business could be adopting AR solutions sooner than you think.
AR has been in the sidelines for quite a while, and now it's finally poised to begin shaping the way we work. And as an IT helpdesk pro, you'll be on the front lines.
3 Ways Augmented Reality Will Impact IT Helpdesks
From aerospace to the military, many industries are already relying heavily on AR. Here are just a few ways you can expect AR to impact the IT world.
New Employee Training
As an IT pro, you know there's no such thing as a "typical day." One moment you're helping a user reset their email password, and the next you're working to defend your network from the latest malware attack. So when it comes to training new teammates — and especially those just getting started with their careers — it can be challenging to know where to start. And when those unexpected high stress, high stakes situations occur (like a data breach or network outage), there's usually not a lot of time for training.
AR can simulate the more complicated aspects of IT so new employees are ready to dive in and help when (inevitably) something goes awry.
Also, AR programs that use machine learning to better understand how top IT pros handle complex issues can help coach greener employees through problems to bypass the learning curve and reach solutions faster.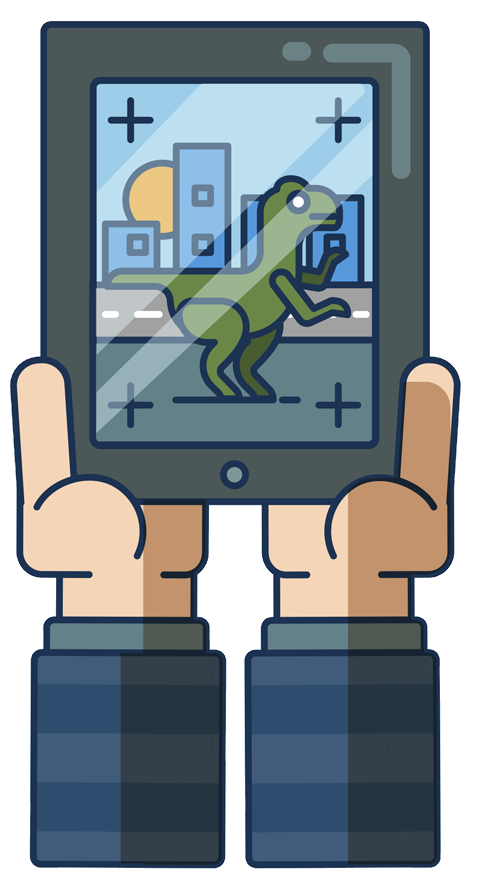 Continued Education
As an IT pro, the ability to grow and expand your skill set on-the-fly is practically a requirement of your role. After all, when your job requires you to stay ahead of technology during a time when tech is evolving at lightning speed, you can't afford not to set aside time to learn about (and eventually master) the next big thing.
Unfortunately, companies don't always have the budget or bandwidth to send their IT helpdesk team for off-site training. Furthermore, investing in every new piece of technology as it hits the market isn't a practical solution for most small to mid-size companies, either.
AR helps solve this problem by giving you the opportunity for "hands-on" training without literally having the new hardware or software at your fingertips. Plus, with solutions like the ARKit from Apple, you can turn your existing Apple hardware into AR training tools.
Virtual Presence
If you've ever attempted to handle a ticket for a user working remotely or from another business location, you know how frustrating it can be for everyone involved. Despite all the technology available to foster mobility, some issues are best solved looking over someone's shoulder. And AR gives you that opportunity.
See-What-I-See (SWIS) technology gives IT pros the ability to see exactly what a user is seeing, even if you're working from an entirely separate location. So instead of relying on vague information like "screen freezes, everything I click gives me the gray box thingy", you can quickly identify, diagnose, and solve users' tech challenges whether you're across the room or across the country.
Preparing for an AR World
Whether it's introducing new AR tech to your environment, or using powerful AR tools to improve how you do your job, there's no doubt augmented reality will have a tremendous impact on IT. By setting up reliable help desk software and organizing your data today, you can prepare your team and your organization for the AR-powered solutions of tomorrow.