When the final month of the year goes out in a blaze of tinsel and twinkle-lights, we can't help but give in to our wistful yearning for a bright New Year. We stay up past ten o'clock drinking cheap champagne. We make resolutions that we swear to fulfill. When the clock strikes midnight, we welcome the crisp feeling of fresh beginnings. And then January happens.
The speed of life picks back up, the days are short and dreary, and all that wonderment and ambition blurs into the background of our hectic everyday routines. But this year, returning to the old way of doing things will not be an option for small businesses and IT professionals. According to Gartner's Hype Cycle (see below), the next big disruption is the fading distinction between humans and Artificial Intelligence (AI).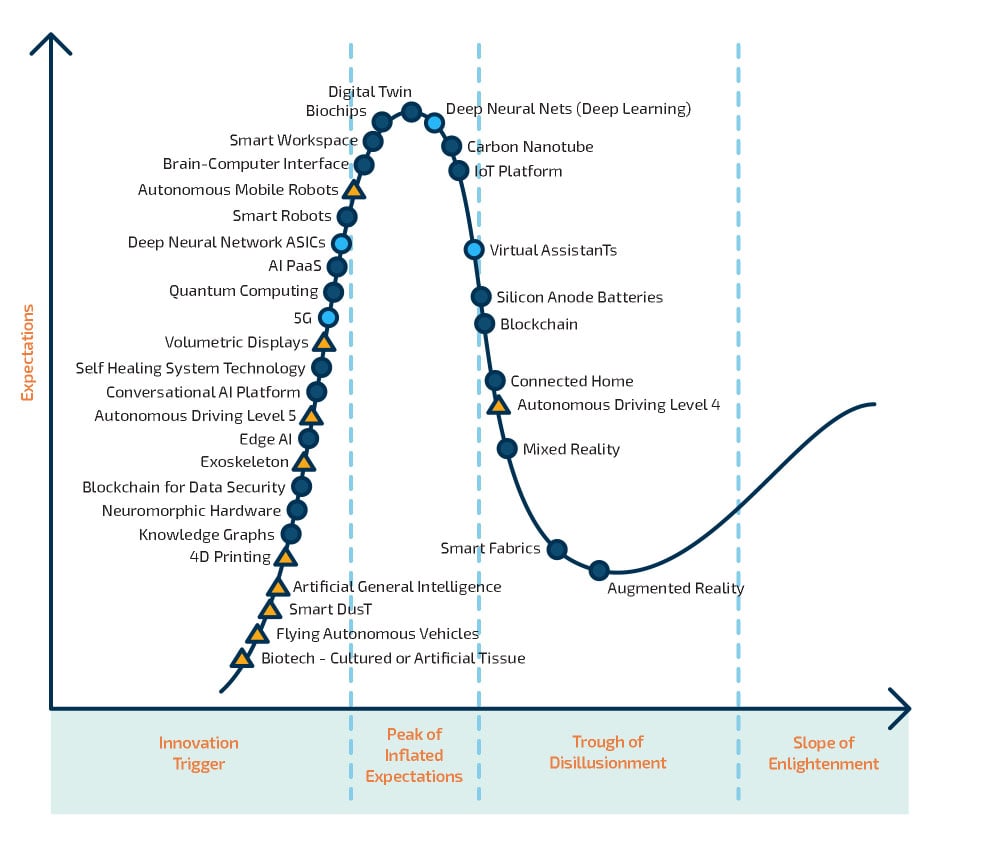 This is not a drill, people. Below are three technologies that will change the way we communicate, collaborate, and conduct business. Instead of getting overwhelmed, get ready, these advancements might just be your chance to outpace and outsmart your competitors.
1. Democratized AI
The "maker" community and open source are generously placing AI technology into the hands of everyday people. When can we expect this disruption to rattle our workspaces? As soon as five to ten years from now. For example: AI Platform as a Service (PaaS) will further enhance our ability to automate work processes, apply predictive analysis, detect fraud and enhance customer experiences. Artificial General Intelligence will result in autonomous vehicles, smart robots, and virtual assistants that can interpret and interact with the world just as well as a human being.
Conversational AI Platforms will allow humans and technology to converse as naturally and with the same cadence as human-to-human conversation. Deep Neural Networks will increase our ability to classify data and identify specific data points. For IT, this means moving the organization away from siloed infrastructures by developing "digitized ecosystems" using sophisticated platforms, computing power, blockchain technology, IoT capabilities, and more. Eventually, these advanced infrastructures will lead to entirely new business models that are supported by the promise of a more synergistic relationship between humans and technology.
2. Ubiquitous Infrastructure
Speaking of advanced infrastructures — they are soon to provide practically limitless capabilities. Prepare for networks and resources that are always on, always available, and infinitely powerful.
5G will offer revolutionary speed that enhances augmented and virtual reality, supports autonomous environments and can handle the massive influx of connected devices that we'll see by 2020.
Carbon Nanotube Technology is making a comeback as the driver of life-changing advances in conductive plastics, molecular electronics, energy storage, smart clothing, and biomedicine.
Application-Specific Integrated Circuits (ASICs) will continue to increase the speed of digital devices while minimizing energy consumption.
Neuromorphic Hardware will essentially replicate the human brain and bring advanced cognitive capabilities to machines.
3. Quantum Computers
Already, researchers and scientists use quantum computing via the cloud to solve highly complex problems. But we still don't have enough computing power on earth to solve life's greatest conundrums. As traditional systems grow, they weaken, but advances in quantum computing will allow systems to scale in power as networks expand, opening up an entirely new world of discovery (insert Morgan Freeman's voice here).
Make no mistake, this technology will impact every single industry and change how we do business, implement security, fight diseases, solve climate change, and develop new materials. It will enhance the capabilities of AI, take scientists closer than ever to molecular interactions, and lead to incredible advancements in medicine.
IBM, Microsoft, Google, and Intel are in an all-out sprint to be the first providers of widespread access to quantum computing, but this race is definitely more like a marathon. We can expect several years before these tech giants reach the next generation of quantum computing. If you thought the rate of change was fast before — hang on to your britches! We are about to enter a new dimension of advanced technology that will turn life as we know it into something straight out of a sci-fi movie.
How can you prepare? The best place to start is by adopting innovations that already exist. For example, acclimate to professional services automation and data science to gain deep-level visibility into every function of your business. You can also lean on your technology partners, like Sherpadesk.
As innovators at the forefront of technology, we are keeping tabs on the progress of disruptive tech and developing new ways to harness transformative breakthroughs for business success.