In your day to day as an IT Entrepreneur, you're dealing with the latest technology all day, every day. You and your team have become experts in fixing and maintaining all kinds of electronic software and hardware, but how good are you at maintaining the most important bit of equipment in your shop? How good are you at managing the Human Factor and the relationships required to launch and maintain a successful IT Business?
The Human Factor: Relationships are the Key.
It's nothing new that successful businesses require good, solid, human relationships. It's in the way that we, as entrepreneurs, approach these relationships that can make the difference between a successful IT startup and failure. That's why we've decided to investigate the core human relationships that make up successful businesses in order to discover strategies we can apply to our own businesses, with the ultimate goal of improving overall efficiency (and hence, profits).
After talking to a lot of successful people in the IT HelpDesk world, we were able to identify six main Human Relationship focus points that help businesses stay on track and improve.
The Six Human Relationship Focus Points
(of Successful Businesses)
Employee Relationships
In the 1980s, Southwest Airlines management adopted an approach to business that said "If you look after your staff, they look after your customers, which then, in turn, look after your shareholders." In 2017, Southwest Airlines ranked as the nation's best in customer satisfaction. Focusing on this key human relationship has also helped Southwest post a profit 44 years in a row, quite a feat in the fickle and competitive world of the airline industry.
But How Do We Build Employee Relationships?
Fortunately (or unfortunately) money is not the answer. Studies show that pay has virtually no impact on employee morale. As it turns out, employee relationships are not that simple.
When a business shows employees that they are heard and appreciated on a consistent basis, it translates into better customer service and helps smooth out operational glitches that will inevitably arise.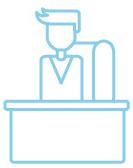 Tip: Show your employees that you have their backs. Having a policy in place that encourages regular communication on a peer-to-peer level will help them feel heard and address any issues that can be nipped in the bud before they become a problem for your employees or your customers.
Relationships in Your Professional Network
Why Your Professional Network?
Networking within your industry is the best way to let the business world know that you're open for business.
How to Build a Stronger Professional Network?
Join your local chamber of commerce (or two) and go to the meetings. Join BNI (Business Networking International), or some other business referral club. Go to meetups in your industry. Some entrepreneurs have reported that these two channels took over two years of regular engagement to start to pay off, but it was well worth it in the end. Also, don't just show up once. Build trust by remaining active. Be consistent.
If you're just getting started, use Facebook or LinkedIn. Look up all your old workmates, make sure they know how much fun you had working with them and let them know you're running your own business now. Watch Craigslist for businesses looking to hire an IT person and pitch them your service instead.

Additionally, befriend accountants and CPAs. Accountants handle the money and usually have the ear of the owner/decision maker. Furthermore, they can steer you in the right direction when tax laws change, or point out a totally legal tax loophole you're not aware of that can help make or break your startup.

B2B Relationships
Why focus on Business to Business relationships?
Picking the right B2B Partners will enable your business to differentiate itself, and get access to top resources like the latest accounting software and integrations with business tools like Salesforce, etc., both for your business and for your customers.

How to Build B2B Relationships?

Some big B2B players like Salesforce and QuickBooks cannot be ignored due to their massive presence and adoption rate. But as a business owner, you really have to try to understand the different B2B offerings out there and how potential partners are trying to frame their relationship with you and your clients. Perhaps some of your clients prefer integrations with smaller B2B players, so be prepared to work with multiple partners. Really look for ways their policies could hurt or hinder the product you deliver to your clients. In these relationships, always remember to act in the best interests of your employees and clients first.
Relationships with Local Competitors
Why be nice to local competitors?
Befriending a neighboring IT Shop (i.e. local competitors) could become the best move you have made all year. There are two big reasons why this is worth it. One is for referrals and two is for emergency coverage.

Every startup should have a niche (or several niches). Creating an agreement with smaller/larger shops in your area is a big opportunity to share business that is not within your core competency. If you, for example, don't work with hospitals or clients with over 100 devices, then maybe you can pass that off to someone who strictly works on those things. They, on the other hand, can send customers interested in your core competency your way. Give and you shall receive.

You can even use tools like SherpaDesk to manage these business to business referrals and/or even pay each other incentives for each referred paying customer.

How to Build Relationships with Local Competitors?

Start with a phone call or email. It's pretty simple and it logically makes sense for everyone. Many people have shared that it may feel intimidating to reach out to a local competitor, but at the end of the day, it could be a win-win for everyone involved.
Customer Relationships
This one is obvious. Good customer relationships are perhaps the main reason you're in business in the first place.
How to Build Better Customer Relationships?
Listen to your customers. Check-in frequently. Show them you understand their pains. Help solve their problems. Give them updates about what you've been doing, what you've prevented and what's doing better. This ensures they know their money is going towards improving their lives and will be more likely to generate referral business.
Keep Friends Outside of Work



Why are Friends Outside of Work Important to Your Business?
If you don't think your personal relationships are connected to the productivity of your work quality you're crazy (at least a little).
It's proven that catching up with old friends or family that we have been putting off improves life satisfaction. Do this and you'll find all aspects of your life improving (including your business.)

Conclusion
Continue building your human relationships. Your business relies on that as much as it relies on all the hardware and software you work with. As like anything else in the world, if you do not consistently nurture them, they will become weakened. Employees, old-networks, channel partners, friends, and customers are all looking to hear from you on a regular basis.

If you consistently listen, show appreciation and connect with shared values, you will build powerful, close relationships. This will translate to more satisfied customers, higher repeat and referral rates, and ultimately more profits for your business (even if you didn't create your startup 'only' for the money in the first place!).
"You can make more friends in two months by becoming interested in other people than you can in two years by trying to get other people interested in you."
- Dale Carnegie