By Josh Bradshaw (Our Man in Silicon Valley)
As a self-proclaimed IoT addict that is hyper-focused on delivering value through IoT solutions, IoT World 2018 (May 14-17th) offered the perfect opportunity for me to mingle with thousands of fellow IoT-loving peers from all over the world.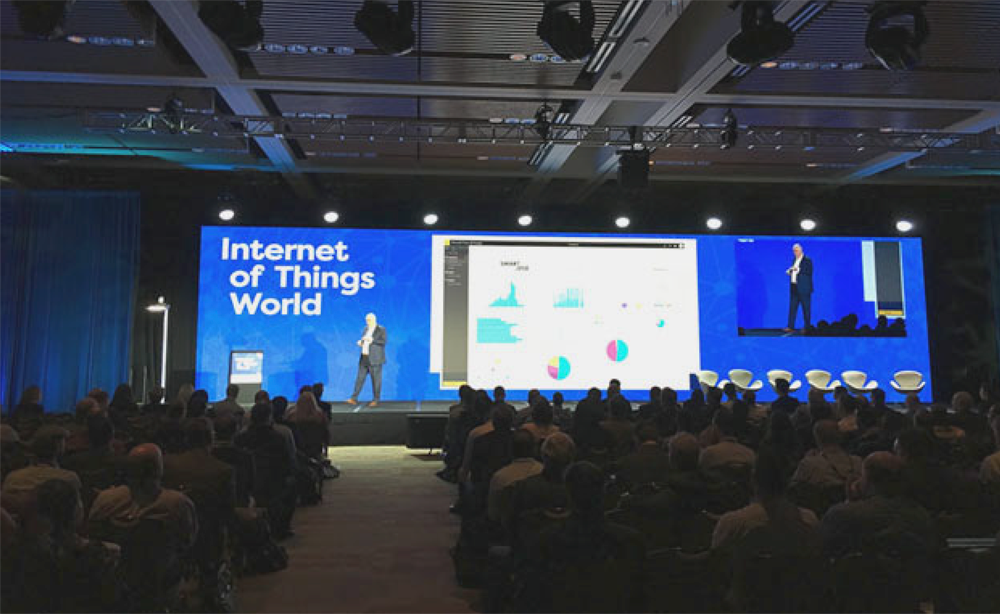 Erik Ubes, CTO of OVG Construction speaks to a full keynote session about how IoT enables the world's smartest building.
The Santa Clara Convention Center churned with energy from thought leaders, enterprise solution providers, and energetic entrepreneurs, all vying for the chance to change the world by leveraging Internet of Things technologies.
Conferences can be a never-ending stream of pitches full of buzzwords. However, I'm glad to report, that at IoT World 2018 there were many examples of real value generation on display. Erik Ubes, CTO of OVG Construction, the largest real estate company in The Netherlands, spoke to a packed keynote session about how the IoT and construction technology have joined forces to create the world's smartest and greenest building.
Named The Edge, this building in the Zuidas business district in Amsterdam, is a spectacular example of innovation and sustainability.
I spoke to various international visitors to IoT World from China, South Africa, Singapore, Australia, and Mexico. A conversation with Roberto Gracia, who is responsible for store maintenance at Oxxo (a chain of convenience stores), captures the essence of why global business leaders are investing time in the IoT. Between Mexico, Chile and Colombia, Roberto is responsible for over 16,000 stores. To manage such a significant amount of stores, spread across three countries, Roberto is working on implementing a Microsoft Azure IoT project. He came to IoT World to be exposed to the most cutting-edge IoT tech and philosophies and to make sure that he and his team at Oxxo were "doing the right things at the right moment and to look into improving their project's objectives."
International business and technology decision makers are trying to ensure that they are taking all the necessary steps to arrive at the best outcome in their local markets. I see a huge opportunity there.
IoT World is the place to learn the latest happenings in the industry for all kinds of verticals. The trick is to take those lessons and implement them in your own industry, product or service. For example, the latest developments in IoT for automotive manufacturing can have applications in real estate, aviation or any other number of fields like IT Helpdesks.
As one rep from DuPont explained: DuPont sees the internet of things as a megatrend, so they are getting fully behind it, with particular interest in the interconnectivity between materials and electronics.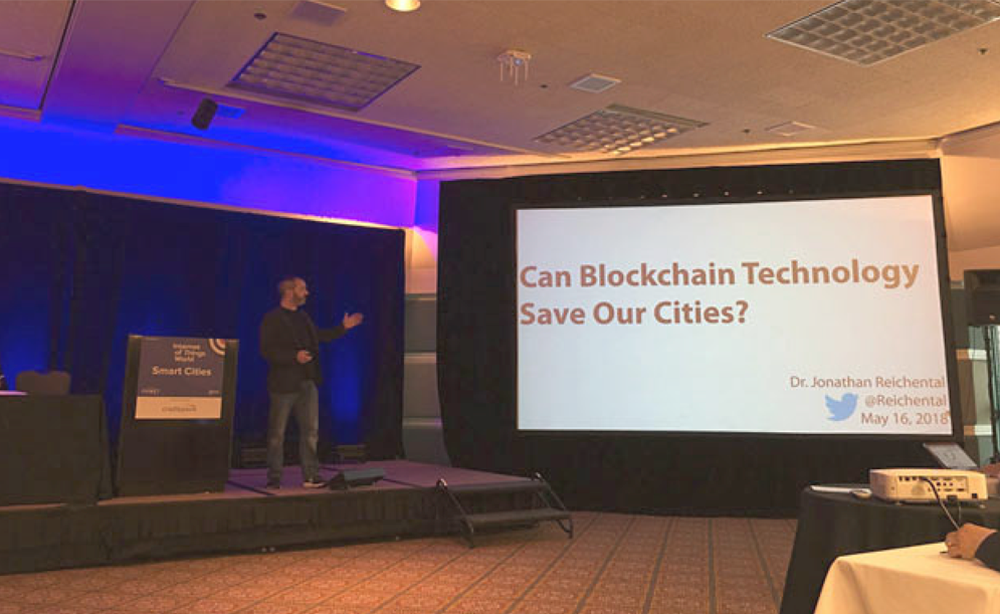 Jonathan Reichental, CIO of the City of Palo Alto asks, "Can Blockchain technology save our cities?"
But IoT wasn't the only thing people were talking about at this year's IoT World. Jonathan Reichental, CIO of the City of Palo Alto and one of the world's most influential thought leaders on smart city technology, led a session about the much maligned blockchain.
He opened his topic discussing some of the more negative effects of cities: "Cities have been quite a big success but they've produced a lot of negative stuff." Then he posed an important question: "Can Blockchain save our cities?"
The answer was no, which elicited a couple of chuckles from the room, but he then elaborated a path forward where the blockchain, coupled with IoT, and several other emerging technologies could help with traffic, pollution, garbage, energy use, and other yet unsolved problems. It is promising to hear from leaders who are pushing the boundaries of what is possible as they champion initiatives to implement new promising technologies for the benefit of their city dwellers and their taxpayer-funded workforces.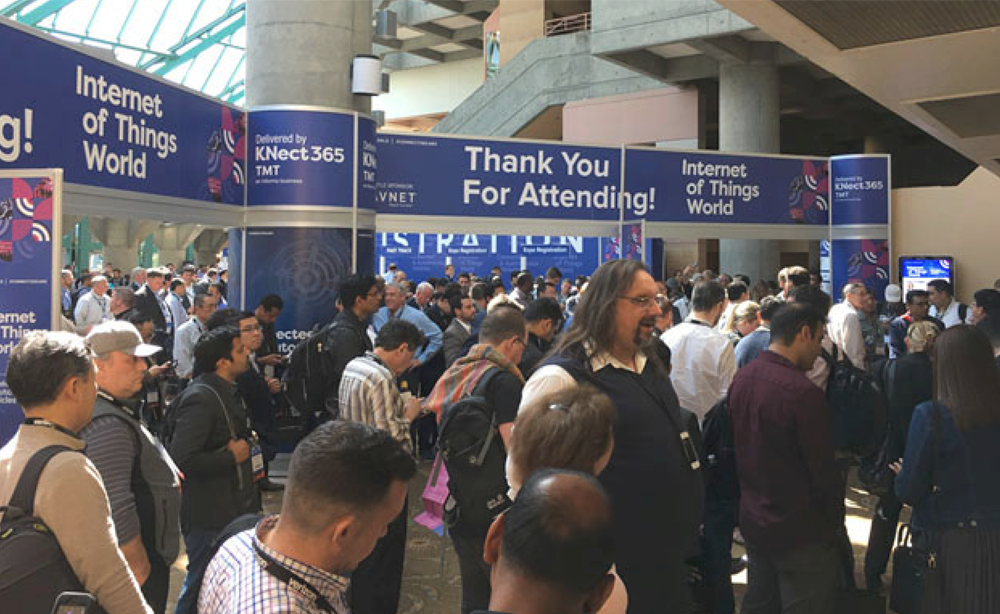 Queue of eager conference goers outside IoT World 2018 Exhibit Hall.
The main exhibit hall was a buzz of activity with every layer of IoT represented; from the smallest sensors and chips to large platforms and frameworks for data collection, transport, storage, and analytics. This included some of the most recent technologies like machine learning, robotics, and robot swarms.
Since the IoT requires an entire ecosystem of solutions for device management, it appeals greatly to companies like Integron, who provide wireless connectivity, network security, and logistics. Robert Kovacs, VP of IoT Solutions for Integron explained; "The IoT world enables us to appeal to a wide range of customers that are looking for IoT enablement via our wireless network and network security products."
While every exhibitor had something different to offer, one provided an excellent example of the diversity of applications for IoT. Robert Martin from Octo Telematics explained; "Information is king, and Octo has built a platform to make driving data available for insurance applications." This application can be used to generate insights that help insurers learn more about how individuals operate their cars. He further explained that Octo provides "safe driving tips, can do stolen vehicle tracking for recovery purposes, enables geofencing for alerts if a car is driven out of or into a particular area and makes it possible to track your trips which allows people to qualify for mileage discounts."
The ubiquity of sensors in the IoT environment is inevitable. Similarly, new security and cybersecurity risks will come out of this technology. Hence, cybersecurity was a recurring theme in many sessions. I spoke about this with with Joseph Weiss, Managing Director for ISA99, a standards development committee that brings together industrial cyber security experts. He explained that his most substantial interest in IoT World was to "understand what is going on with IoT as it might affect things like power plants, pipelines, and manufacturing." What this means is that as beneficial as IoT technologies are, the Internet of Things creates a vulnerability in what we can call the "Internet of Grid," thus causing significant challenges for energy management and the cybersecurity professionals in charge of them (like IT managers).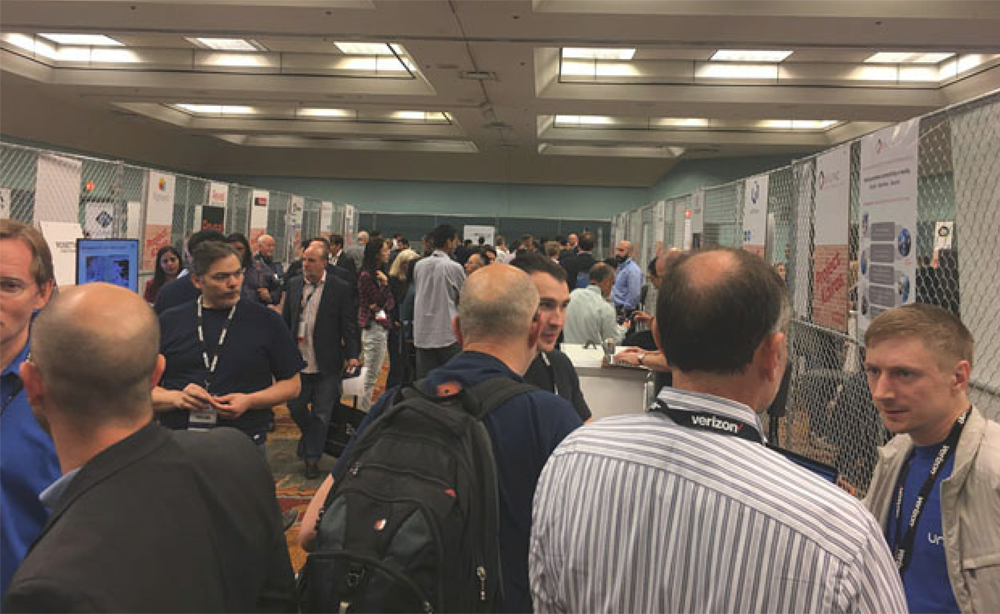 One of three rows of startups at IoT World cram packed with entrepreneurs, investors and IoT enthusiasts
Next to the main exhibit hall was an area dedicated to startups with some of the latest and most disruptive approaches to the IoT.
Several venture capitalists walked the room, checking out the hottest opportunities. I spoke with one startup founder focused on handling IoT data which reflected the bullish enthusiasm of every entrepreneur in the room. When I asked him about his competitors, he claimed he didn't think there was anybody that was doing something like what his startup does. When asked about his customers he cheerfully explained his company is a startup, and he doesn't have customers yet, but that he was mulling several bids from venture capitalists. Welcome to Silicon Valley in 2018, where small hopefuls mingle with established global companies to drive the world of the IoT kicking and screaming into a near future of ubiquitousness.