One year ago, our executive team was altogether sharing a call to discuss our next business moves. Despite having the whole team together, the call was silent. The sounds of silence weighed heavily in the air.
Jon, Mike and I (Pat), all sat deeply thinking about the future of SherpaDesk, the sprouting seed out of our previous venture, bigWebApps HelpDesk. Any founder, business owner or team manager is familiar with this feeling. For two years now we had been betting big on our new service, SherpaDesk, but growth was lackluster.
"We could try a partnership with Salesforce," Mike said with uncertainty.
Our team was unsure. We have always believed in the most expert of service and quality in what we deliver, but we were struggling to move the needle despite our resources being at an all time high.
We were profitable, but we had no time and no growth.
Despite working harder and harder, nothing was changing.
What are We Doing Wrong?
Business is difficult.
Since that day, we have made a few moves that have put us in a phenomenal place to achieve our goal of serving you all better than ever. It sounds corny, but stick with me here. We exited the meeting with a long-term plan to re-calibrate. Based out of Atlanta, Georgia, we decided we didn't know enough. Not enough people, not enough about growing a business.
20 years of entrepreneurship helped us believed we had it figured out. We do some things right, but it was time to become students again. Our goal for 2016 was to learn as much as we possible could from hundreds of business experts across the country and to build a winning gameplan.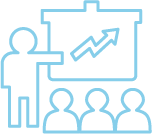 In 2016 we completed two amazing business accelerator programs across the country. One in Silicon Valley working with world-class software professionals and one in Boston, MA working with prestigious strategizers and customer success champions. This doesn't do our learning justice, but it gives you an idea. We were literally going coast to coast on our quest to equip ourselves with the right tools to approach our business.
After months of learning with top professionals, we exited the programs energized and relocated parts of our team to Silicon Valley where we soon onboarded a new hire, our first marketer, a content storyteller in October. Since then, many of you have received phone calls, emails and famous yeti hats in the mail as we sought to narrow in on your most critical pains to deliver on something useful.
Focused. Hopeful. Determined.
The time we spent with our customers was incredible. It felt like the dog days of entrepreneurship all over again. Just digging in deep and hitting the white-board. Here is a shot of our marketer, Andrew, captured mid-phone call!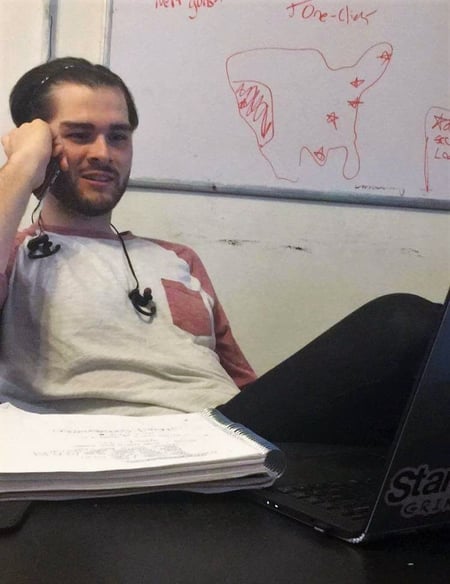 We are so thankful for the time so many of you shared with us. Your feedback helped us narrow in on who you are, what you believe in and what your business pains are. With everything we have learned, our business is moving with great momentum allowing us to deliver on something big in 2017 starting today.
The month of April marks big changes. Our difficulties have led us to this point where we see ourselves growing into the best business we can be because of the explicit knowledge we gained on our journey.

What to Expect from SherpaDesk in 2017:

A Focus on Relationships
& Freedom of Lifestyle

We learned you all want freedom to create and deliver a personal touch on your projects. You value personalization and relationships but are weighed down by administrative tasks preventing you from doing what you love with the mobile lifestyle you envisioned. You can expect every move we make to simplify and consolidate the energy draining administrative tasks to enable this within your business. Our ultimate goal is for admin tasks be so easy you forget they ever existed.

Our Journey to Catalogue the
Pains of Professional Services

Each month, our content team will expend all of their efforts on speaking to one major pain of professional services. We will use our prime location in California to bring the brightest, most notable sources on critical topics right to your inbox. To start, this April, we will be covering effective operations. We will highlight the transition from Break-Fix to MSP among other things.

A Salesforce Integration

Mike's prophecy has come true and SherpaDesk now integrates seamlessly with Salesforce.
Why not? :-)

Our Transparency

We have set out to openly discuss our big bets, our big wins and our big losses. To start with transparency, we have a goal of reaching $1 million in ARR by the end of the year. You can check back in on us in December, you can email us at anytime and we will share how it is going. You will hear about everything we did to be more effective, more efficient and more profitable.

We have Redesigned Our
Website & Our Blog

There's nothing more powerful than a website that just feels like an adventure atop a blissful mountain. Our new website delivers functionality and world-class design. If you want, explore the website some, look at the footer, the header, the text, icons, fonts, colors, language, links, policy pages, 404 pages, you name it, it's been thought of and designed.

Open Ears

As always, you have our 24/7 attention. Whether you need support, want to give feedback or just talk sports, reach out. We are fun and everything we share with you will be personalized. No annoying, crappy emails just because some guy on the internet said to email people once a week. Everything we put together is to be an asbolutely effective, educational and entertaining piece of work for you.

The hours can be long.
The business can be sporadic and the stress levels high. Online resources are abundant and redundant.
At SherpaDesk, we hope to play as a critical resource in lifting the stresses and creating the lifestyle you want.
See the first piece of our April content series here - Why You Should Probably Consider Switching from Break-Fix to MSP
Cheers,
Founder & CEO, Patrick Clements