The 5 Pillars of Successful Tech Entrepreneurship
By Patrick Clements,
CEO SherpaDesk.com
They' say that entrepreneurship is the driving force behind Silicon Valley. You've got to "start your own business" we're told, apparently because it's the "only way to make it". Go and create that next big app, code till you drop, out-market the marketers, go for that round A of funding!
But the truth is that entrepreneurship predates Silicon Valley. Levi Strauss famously came to San Francisco during the Gold Rush to sell tents and other dry goods and ended up inventing the blue jean (more about Levi Strauss later).
In fact, many experts say that there's nothing particularly special about the Bay Area as a region that breeds entrepreneurs. Yes, tech investors are here now along with some amazing Universities, and that attracts talent from all over the world, but that has not always been the case, nor will it stay this way forever as global competition revs up (and let's remember that).
Many successful technology brands today started outside of the Bay Area, i.e. for every Apple (Cupertino), there's a Microsoft (Seattle). For every PayPal (San Jose), there's a Skype (Scandinavia & Latvia).
Other notable tech companies with origins outside the Bay Area include Fiverr (Israel), Facebook (Boston), and Lyft (Santa Barbara). In the meantime, new tech giants like Alibaba (China) have been growing exponentially by benefiting from the lack of access provided to US-based firms behind the great firewall of China.
The point is, the drive to become an entrepreneur is universal and this pushes competition among global tech startups and well-established companies alike.
Many have the drive to become a tech entrepreneur. However, the talent to become a successful one depends on several factors, many of which are out of one's control and only getting harder day by day due to intense competition.
That's why making a definitive list of the top Five Pillars of Successful Entrepreneurship sounds overplayed, right?
Wrong.
As co-founder and CEO of SherpaDesk, I am committed to delivering to our customers a powerful Professional Services Automation (PSA) solution that simplifies their core business activities without the bloat of traditional PSA help desk software.
I strive to make our SherpaDesk cloud-based help desk support application easy to use and affordable. The idea is to improve our customer's services, not to disrupt it. Our goal is to have a cloud-based setup that is always simple and fast, and that offers seamless integration with accounting software (QuickBooks, FreshBooks and Xero Accounting).
But how did SherpaDesk get here? Why did we decide to make our product the way it is? In short, through trial and error, a lot of hard work and tons of disagreements. Looking back and knowing what we know now, we decided to write down some key philosophies we learned along the way and we wanted to share them with you.
The Five Pillars of Successful Tech Entrepreneurship
Listen to Your Customers
When Levi Strauss was selling tents during the gold rush, he had the business sense to listen to one of his customers. This customer was a miner and tailor who was dissatisfied with the strength and quality of the work pants available during the 1850's. But Levi Strauss didn't just listen to his customer, he took it one step further by partnering with him to develop work pants with rivets and double stitching that provided the strength to the blue jeans that we all love and enjoy to this day. Was Levi Strauss simply following a trend? No, he was smart enough to listen to his customers, see a true market need and build a lasting business model.
Don't Find Trends. Find the Right People
Levi Strauss found his rivet-inventing partner and the rest is blue jeans history. Steve Jobs famously navigated Woz to help build the Apple II to get the real momentum they needed to get started and the rest is computer history.
When Jon and I were contemplating starting our first tech company, we didn't know squat. This is when we went out to learn from industry leaders and authors who have proven success in building great companies. We needed good mentors (and fortunately, we found them). This helped us begin a solid foundation to start a company. Make sure that you surround yourself with people who are smart and can get shit done.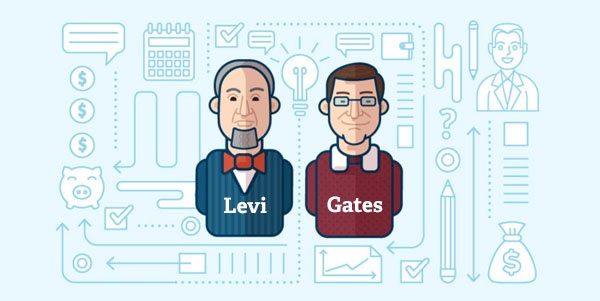 Startup Entrepreneurs: Levi Strauss and Bill Gates
Believe in What You Can Do (Play the Long Game)
The same way that writers are told to write what they know, quite often entrepreneurs are told to "do what you love". That is true, but only if you're prepared to give up doing what you love doing on a daily basis in order to make sure that your business becomes successful.
When we founded our first technology business, We quickly realized that the time previously dedicated to actually providing help desk support was now occupied by meetings with lawyers, doing taxes, creating partnerships, managing customers satisfaction, interviewing new staff, etc. There was no time left to do what we loved. But because we believed in what were doing, it helped us stay the course.
So, play the long game and don't always look for shortcuts to get an easy win.
Delegate Well
Successful entrepreneurs learn the art of delegating early. You can't do it all yourself. Period.
It takes a small village to make a tech startup successful. As a founder, you can't possibly do everything, but you can still put your stamp on everything by creating a shared vision by opening channels of communication between you, your team, new hires, suppliers, and freelancers.
This will help you maintain a quality work/life balance. Learn to delegate your tasks and allow yourself to focus working 'on the business' vs 'in the business'. You will burn out in the long run if you don't set aside time for yourself.
Do Your Homework
Success is not luck. If you do your homework, then you are in a position to make your own luck. Do not skimp on a careful business plan with clear objectives. As always a good rule of thumb is K.I.S.S (keep it simple stupid).
Protect your Downside

.
There are always risks in business, but never try to put yourself in an 'all-in' scenario. You should always make sure to mitigate your risks whenever possible.
Walk the extra mile to make sure that you can track all of your key analytics, and make sure you review and discuss them at least once a week.
Don't risk becoming the next Palm or Nokia. Silicon Valley is littered with once successful companies that basically ceased to exist overnight because they simply didn't do their homework.
(Bonus) Be of Service and Have Fun.
Everything you do in your business should be aimed at enhancing your customer's life by allowing them to enhance THEIR customer's life. If you do that, success will follow. Just make sure that you maintain a quality work/life balance while building your business to avoid burning out in the long run.
Work/Life Balance: Easier Said than Done?
For those of you struggling with finding the right work/life balance, just remember this one piece of advice. "Nobody ever laid on their death bed, looked back on their life and felt like they should have had worked more".