PSA tools are a major commitment for a business. If you are just landing on this page, you may find this previous chapter of our PSA series useful in better understanding how a PSA might change your business.
Professional Services Automation becomes 'the' solution a company will use as almost all of their major operations will be configured through it. As we have emphasized greatly throughout all of the previous chapters in this series, much of your experience with your solution is going to be based on who your provider is.
You don't want to get two-stepped by your PSA Provider
Misgauging your needs or your provider's features makes you ripe for some hoodwinking.
A bad match up can lead to a business relationship built on contracts and nightmarish sales lingo. Contracts can hurt if you get yourself tied up without assessing all of the features and functionality for the tool you are committing to.
There's nothing wrong with contracts, but sometimes a tool is just made for companies larger than yourself and you my find yourself in a bind.
We aren't calling anyone out or anything.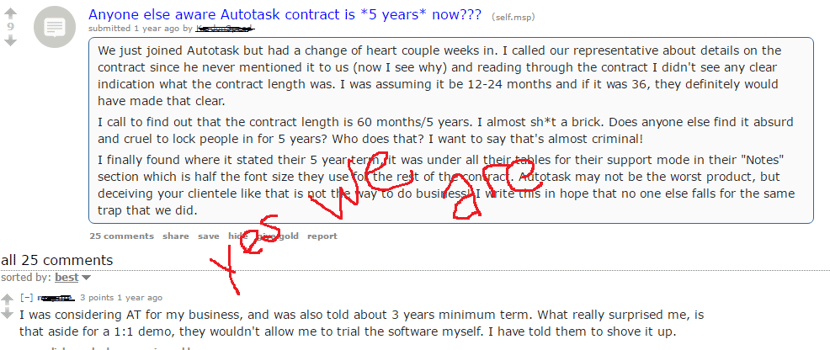 With this in mind, choosing the right provider is one of the biggest payoffs or potential mistakes you can make. Choose wrong, and you could be locked into a contract for years with a solution that does nothing but eat away at your productivity and morale. But choose right, and you are well on your way to a smooth sailing ship.
We have compiled some important things to lookout for.
If you pizza when you're supposed to french fry you're gonna have a bad time
Common PSA Risks and how to tackle them
Risk:

Onboarding a tool that is too complex for your needs can lead to substantial IT infrastructure spending, unproductive use of critical IT resources, expertise and rapid obsolescence.

Explanation:

It can be appealing to select the tool that is the most functional. Something that has features you 'can grow into.' This is dangerous because PSA solutions are made with a specific business size in mind. If you don't fit that mold, there will be lots of time spent hurdling over features you don't need that are built into the process of the solution you have chosen.

Solution:

Evaluate all options. Evaluate your needs. Pick something that delivers on what you need right now and nothing more.

Risk:

All of your tools and operations are based on the reliability of your one provider.

Explanation:

Being that all of your tools and business will be in one place, this also means there is a risk associated with how reliable this company is. If this company's main server goes down, you go down. If that entire company goes down, can you get your data out of the black hole that swallowed your provider? These a big risks.

Solution:

There is nothing wrong with new companies as everyone has to start somewhere, but ensure they have things figured out. Ask where their servers are located. Ask who provides the servers to them. How many do they have? Ask about the previous business ventures of the team. How long has the team been together? Who are their investors? How does your provider handle support? These are all appropriate questions when betting on a company.
Risk:

PSA tools of late are Saas tools (Software as a service) as they are hosted online through the cloud. Be sure that your provider is on top of their support because you will likely face issues down the road. This is inevitable.

Explanation:

The major benefit of Saas is that the host company frequently makes updates, and keeps your tool on the cutting edge without you ever having to change a thing. The difficulty, however, is that sometimes these updates and new configurations will mess up parts of your business process. This is part of technology and will happen within every software company at some point. However, what is critical is how a company handles these issues. If the company is investing only into new product features and sales with no emphasis on support, you will know their business model is about getting customers. Not making their current ones happy.

Solution:

Ask tough questions about service outages. How do they handle it? Can you call management direct? Do you have a name and support professional you can rely on every time or do you have to bet on a ringback tone? We recommend looking for a team who is willing to go the extra mile to ensure you are taken care of. How they deal with issues and how they prioritize your needs is vastly important, especially when you find yourself with the servers down.
Really, minimizing risks comes back to knowing your needs and what your providers offer. We will cover more on this in the next chapter of the series, but for now, onto the good and the better about PSAs.
PSA tools pay for themselves within months
The results are in. PSAs have big time ROI. This has been a fact mentioned by SPI Research as well as in Rudolf Melik's book PSAs Optimizing Project & Service Oriented Organization.
To further understand the value of a PSA Solution, we have pulled a graph from a SPI (service performance insight) research study published in August 2012. The study conducted by SPI surveyed over 1000 mature professional service organizations. The data found that 70% of the organizations that had adopted PSA tools and uses this split in data to create a comparison of various KPI's (key performance indicators) to measure the impact of the software vs. companies that do not have the software.
Using this graph and few calculations we look to investigate the potential rewards of a Professional Services Automation Software.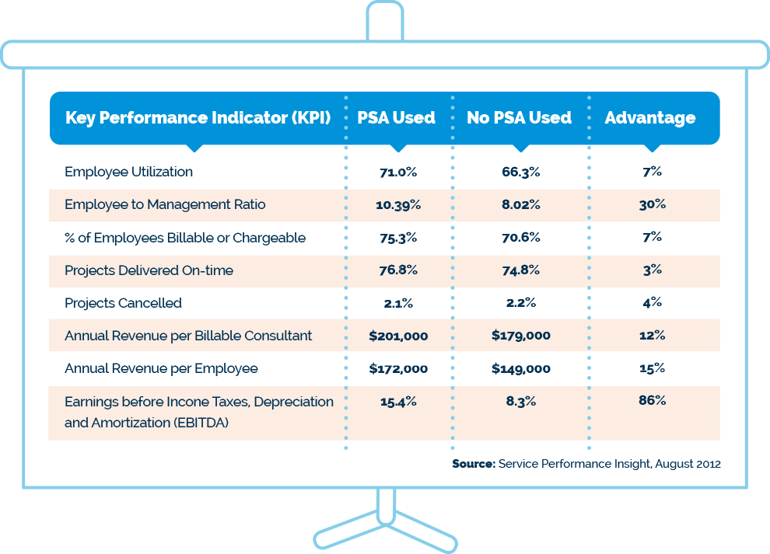 In the graph above, it may be noted that the benefits of companies are quite vast. While the graph speaks for itself, we have listed out a few things can be taken away from this data.
Employee utilization is up

Managers are able to manage more people

Agents are billing more hours

Projects are delivered faster

Less projects are being canceled

Each agent is making more

Each respective employee is making more

Earnings are up.
Show me the money
So while the ROI is shown quite well above, we have presented an equation of a potential company below referencing the data above -- specifically the increase in employee utilization rate of 7%.
Potential ROI from PSA Software for SAMPLE FIRM
Based on the above equation of a billable utilization increase of 7%, we can make an estimate for SAMPLE FIRM.

In the standard professional service firm, each employee you have will work approximately 2,000 hours per year.

Let us suppose they are billing is at $100/hour.

Using information from the example, let us suppose SAMPLE FIRM and their employees are only capturing 68% of their 2,000 hours before adopting a PSA solution.

2,000 x .68 = 1360 billable hours

1360 billable hours x $100 = $136,000 in revenue per consultant

Now let us suppose you onboard a PSA solution that has a 7% increase in billable utilization bringing your billable hours up to 75%. This equation changes.

2000 x .75 = 1500 billable hours

1500 billable hours x $100 = $150,000

This is an increase of $14,000 of potential revenue per consultant.

Let's suppose your PSA tool charges $80 per employee per month. With 12 months of the year, the cost to the firm per employee comes out to $960 a year with a net increase of $14,000 per year per employee.
If you are curious, Rudolf Melik signs us off of this section explaining the quick ROI.
"The quick ROI is primarily due to the tailored nature of the solution, quick implementation of full featured relevant functionality, modern user interface demanding minimal user training and lower purchasing and ongoing maintenance."
"Boom." - you
______________________________________
This is part of our eight chapter series on Professional Services Automation.
See the rest below.