By Jessy Smulski (Tech Writer)
The "customer journey" is the step-by-step process a prospect or lead takes to become your customer.
Nowadays your customers' experience of their journey to becoming your paid client is more important than ever for your brand's success,

even more important

than price or product.
That's why we've created a handy infographic to map out your ideal customer's journey to help deliver an exceptional customer experience that will help your business close more leads while building brand loyalty.
Click on the map below to download it as a PDF:
Breaking Down the Customer Journey
The Customer Journey isn't measured in miles but interactions with your company. Starting from a social media post, search query, website visit to a blog article, sales conversation, or customer support call, every interaction nudges the prospect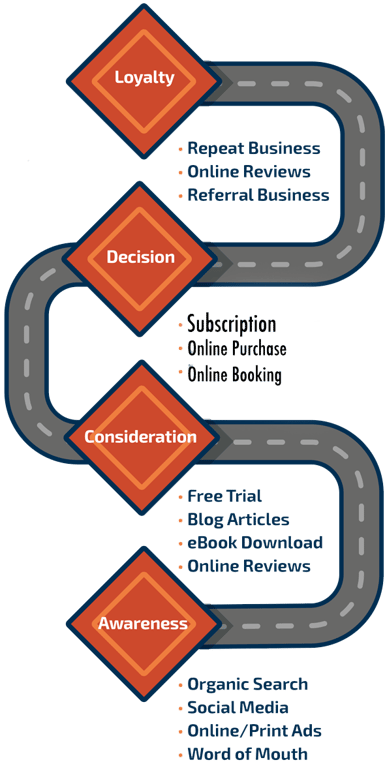 forward through the sales funnel and — if you do it right — all the way to the close and customer loyalty.
The Customer Experience is how a customer feels about all these interactions. No two customer journeys are identical, but every prospect travels past the same landmarks:
1. Awareness
The buyer realizes they have a problem and begins to seek a solution.
2. Consideration
The buyer conducts research and develops a deeper understanding of their wants and needs.
3. Decision
The buyer chooses a solution that best meets their wants and needs.
Bonus: Customer Loyalty
The buyer has a consistently positive experience with a company and becomes a brand loyalist and advocate.
During the awareness stage of the journey, marketing teams produce ads, content, and other campaigns to attract attention. As prospects become more interested in a product or service, marketing and sales teams work together to encourage specific "high value" interactions, such as attending a webinar, signing up for a free trial, or downloading an insightful resource. Once a purchasing decision is made (and sometimes, slightly before) it is the help desk's turn to sustain the customer experience. Unfortunately, this is where many help desks fall short.
The average First Response Time (FRT) for customer tickets is 7 hours 4 minutes. The recommended FRT is 4 hours
.
The average Resolution Time for customer tickets is 3 days 10 hours. The recommended timeframe is 1 day.
20 to 30% of call volumes are call-backs from previous, unresolved issues
.
When sales and marketing teams strategize how to improve the customer journey and increase sales, they use Customer Journey Mapping. Customer journey maps help them visualize how a prospect moves through the awareness, consideration, and decision stages of the sales funnel and what motivates each interaction. Likewise, help desk leaders can create Customer Support Journey Maps that zero-in on the processes and interactions specific to your help desk or MSP to identify weaknesses and enhance your customer support.
The Basics of Customer Support Journey Mapping
There are limitless ways to create a journey map, but every model includes the same fundamental elements: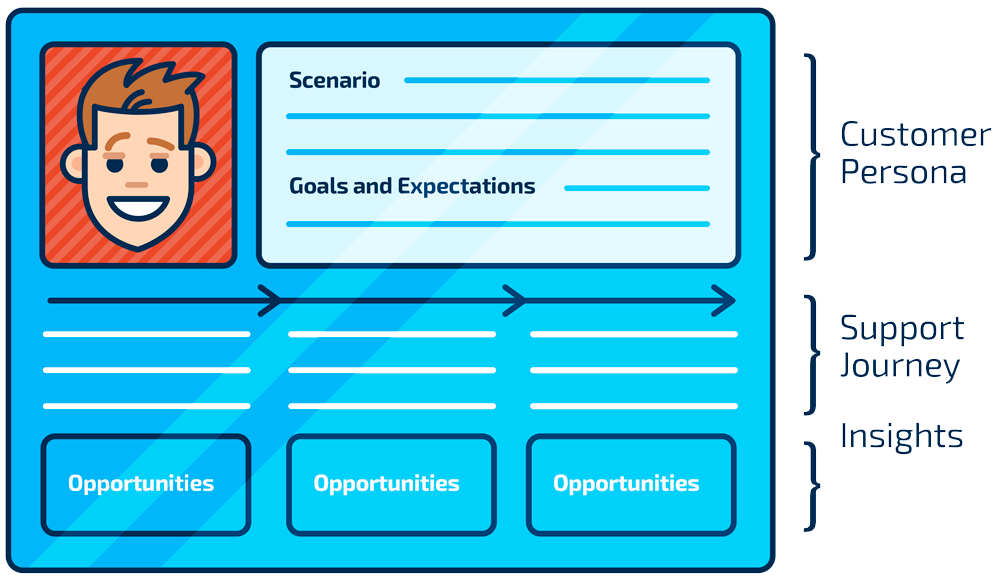 1. Customer Personas: A customer persona is a fictitious profile that represents the key members of your target audience. Each profile will include as much information about this audience member as possible (e.g., job title, demographics, goals, and pain points).
Hint: Reach out to your sales and marketing teams for help. Their Customer Relationship Management software will have vital intel to help with the development of these personas.
2. Workflow: Workflows can be the general steps an individual must take to request and receive customer support, or a more granular step-by-step breakdown involving a specific customer support interaction.
3. Interactions: Depending on the workflow, you can use marketing, sales, and help desk data to create an inventory of all the interactions that take place between a customer and the company during the support process (e.g., online chat, phone call, video tutorial, online ticketing portal, etc.).
4. Thoughts/Emotions: As you map interactions across the workflow, assign customer emotions to each touchpoint. Validate assumptions by asking for customer feedback, assessing helpdesk department logs, reviewing live chat transcripts, and more.
5. Opportunities: With a deeper understanding of who your customer is, how they arrived at your help desk and what their pain points are, you can:
•

Identify if certain interactions cause frustration
•

Eliminate inefficiencies
•

Improve the process flow
•

Anticipate interactions and provide useful resources
•

Support customers with greater context surrounding their problems
Keep in mind, your analysis and mapping of the customer support journey is an ongoing process that should be done periodically throughout the year. Download and keep this handy infographic for reference as you develop your own strategy for mapping the customer support journey and delivering an exceptional experience.
It's also worth noting that, even if your help desk team has a Ph.D. in consumer psychology — the customer experience they deliver will be severely limited without an advanced help desk software system.
A sophisticated helpdesk software system automates and streamlines how agents receive, process, assign and resolve customer issues. In addition to reducing your response and resolution times, the right platform will also:
•

Help agents track performance metrics,
set measurable goals, and monitor improvement.
40% of service desk professionals don't measure key business value metrics
•

Provide customers with online tools to quickly and easily submit requests, track progress, and communicate with technicians.
70% of customers expect a company's website to include a self-service application
.
•

Collect extremely valuable customer insights that can be used to inform sales and marketing strategies and improve the customer journey. For example, providing the right online content to reduce confusion and help customers troubleshoot on their own.
It's estimated that customers manage 85% of their relationship with a company without interacting with a human
.
To learn more about how help desk software can assist in journey mapping and improve your customer support experience, check out this article:
IT Helpdesk Software: 7 Must-Have Features