By Mary Paulene Omae San Miguel (Tech Writer)
Savvy tech entrepreneurs and IT and MSP business owners understand that efficient communications lie at the core of their businesses and can make the difference between success and failure.
The reality is that customers nowadays are used to reaching out to tech businesses through many channels of communication (sometimes all at the same time), be it email, chat, social media, and particularly what some call a "legacy" way of communicating: The telephone.
Indeed, tech entrepreneurs that overlook the vast importance of voice communications as part of their day-to-day workflows do so at their peril. After all, most of their customers have easier access to their telephones (smart or otherwise) for a higher percentage of the day than any other tech gadget.
IT & MSP businesses cannot afford to neglect voice calls because this is still a preferred communication for many of their customers. Besides, there's something about voice calls that enables MSP businesses to retain a human touch with their customers that can't be replicated on a chat, email, or even a Zoom call.
Whether you're running a small tech business or a large enterprise, investing in a robust cloud VoIP phone system is critical to streamlining communications with your customers, staff, and partners.
When looking into phone solutions for your MSP, you've probably uncovered that the adoption rates among tech companies for VoIP services are rapidly increasing. In fact, by 2024, the global VoIP services market is expected to be valued at $194.5 billion.
The bottom line is that to future-proof your IT & MSP business, it's time to switch to a robust cloud VoIP phone system.
Let's explore the essential VoIP integrations that tech entrepreneurs need to connect their business's phone system with their IT & MSP workflows and increase productivity.
First Things First: What Exactly is a VoIP Phone System?
VoIP, which stands for Voice over Internet Protocol, is the technology that allows voice and video communication via an internet connection instead of a traditional phone line.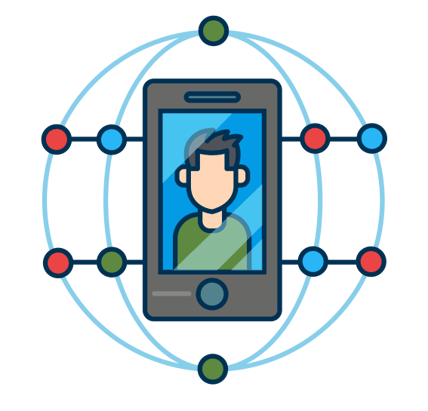 By using a VoIP phone system, your staff can make phone calls or start video calls from any location as long they're using an Internet-connected device.
They simply need to download and install the VoIP software on their computer, smartphone, or other IP devices.
Five Crucial VoIP Integrations Your IT & MSP Business Needs
Did you know that nearly 10% of businesses use more than 200 apps in their day-to-day workflows?
With the huge amount of business apps companies use today, having an integration-ready VoIP solution is important to break down silos and have a unified platform for all data points.
Here are some essential VoIP integrations that will help streamline your work processes as an MSP:
Calendar Integration
Having a robust Calendar Integration is a great way to ensure that your tech team's appointments are well managed and synced with external calendar apps like Google calendar, while enabling VoIP integration within your team calendar allows for easy team and customer communications inside calendar entries.
Calendar integrations for MSPs like the one provided by SherpaDesk allows IT managers to monitor the number of tickets and client meetings their techs have on any given day and help schedule group meetings when every team member is available.
CRM Integration
Integrating your VoIP system with your Customer Relationship Management (CRM) software helps centralize, synchronize, and analyze customer data.
Marketing, sales, and customer service teams can use CRM tools to understand and have a unified view of the customer journey.
Novocall, a leading VoIP provider, for example, integrates with two of the most popular CRM platforms: Hubspot & Salesforce.
VoIP Hubspot CRM integration, enables sales teams to sync leads and automatically create contacts. IT also stores recorded calls, logs call activities, and tracks outbound call efforts.
With a Salesforce CRM/VoIP integration, MSPs can be notified immediately of any new leads coming through their VoIP system and enables sales teams to create custom filters on their Salesforce platform.
Social Media Integrations
With VoIP social media integration, MSPs will be able to engage with their customers on different social media platforms.
This is why providing social media customer support via a VoIP integration should be a top priority for your IT & MSP business.
Analytics integrations
Integrating VoIP systems with web analytics will give MSPs better insights into their customers' behavior. Having the right data insights can help improve product and service offerings, which can result in increased sales revenue.
Here are some useful data and analytics tools to integrate with VoIP systems:
Google Analytics: To help track website traffic and identify trends and patterns of website visitors vs phone calls.
Google AdWords: To ensure a smooth online-to-offline attribution for your marketing campaigns.
Facebook Pixel: To track callback conversions that came from your Facebook ads.
Integrations With Online Collaboration Tools
For hassle-free project management, teams from different departments use online collaboration tools for instant messaging, file sharing, and more.
This means that it is crucial that your VoIP phone system integrates well with whatever collaboration software your tech team is currently using.
Slack Integration: Send automated activity notifications straight to your specified workspace & channel in real-time.
Microsoft Teams: Receive real-time notifications regarding your calls, messages, and schedules.
Benefits Of An All-In-One VoIP Phone System
IT and MSP businesses of all sizes—from startups to big corporations—can take advantage of an all-in-one cloud VoIP phone system in different ways: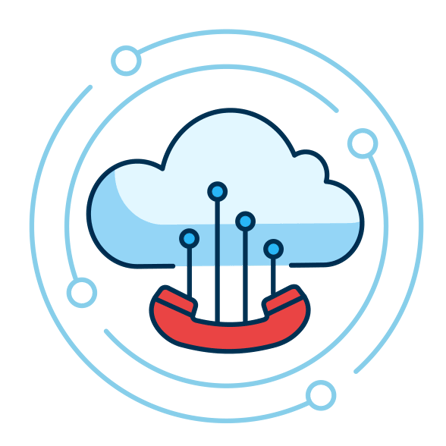 Advanced Call Features
To improve your team's inbound and/or outbound call process, it's recommended to have the following call handling functions enabled on your VoIP system:
Call Forwarding: Redirect or forward incoming calls from one number to other numbers or devices.
Call Whisper: Coach agents during a call with a customer in real-time.
Call Recording: Record incoming and outgoing calls for review and feedback on agent performance.
Lead Routing: Set lead routing rules to automate connecting your leads to the right sales rep.
Cold Calling: Save time by eliminating manual dialing and improve the sales outreach process with automated cold calls.
Cost Savings Of VoIP Integrations
There are different ways by which adopting an internet phone solution can help you reduce communications costs and save money as an MSP.
Here are some examples:
You don't have to purchase expensive hardware or hire a dedicated IT team. If you choose a hosted VoIP setup, your service provider will be the one to cover the installation, maintenance, repair, and upgrade costs of the phone system.
You only have to pay a fixed monthly subscription fee per user to get the features your business needs. Most service providers offer different plans that already include a wide range of capabilities, so you don't have to worry about paying separate fees for each of them (which is the case with landlines).
You can get unlimited international calls. Some B2B VoIP vendors offer this as part of their subscription plans. With this, you won't be charged per minute for "long-distance calls".
Get discounts. Depending on your provider, you can get discounts on subscription fees if you pay per annual billing cycle instead of paying monthly.
Mobility
When you switch to IP telephony, your staff won't be limited to working with a physical phone in the office. As mentioned earlier, they can work from anywhere as long as they use IP-enabled devices.

In some cases, the VoIP app also allows them to switch devices while a call is ongoing and continue to move around without getting disconnected. This means they can go from using a desk phone to using a smartphone—from wired to wireless, seamlessly.
The mobility of an IP-based phone solution is extremely helpful for MSPs with remote staff or for when employees are required to travel. When your techs can work from anywhere, you can ensure business continuity (even during natural disasters, provided the internet is up!).
Increased Productivity
For your IT and MSP team to stay productive, you need to equip them with the right tools. Using VoIP as a business communication tool will give them access to a wide variety of features, which they can use to do their work more efficiently.
For example, they can use the videoconferencing feature when they need to hold a meeting with participants from different locations. They no longer need to travel far to gather in one place to discuss business matters. They can simply do it online.
Using the features available in your VoIP phone system can save your tech team a lot of time. This way, they won't have to spend extra hours at work to finish their tasks.
Scalability
As your MSP company grows, the number of customers and employees also increases.
If you are using VoIP as a phone solution, you can easily add phone numbers and extensions to new staff. Simply log into your account, purchase new phone numbers, and assign them.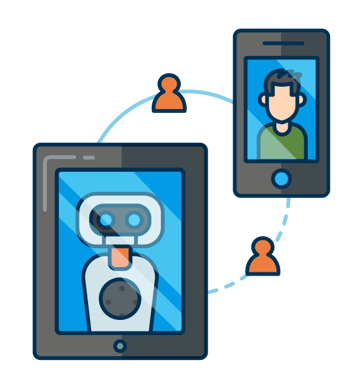 This is way more convenient than adding users to a traditional phone system because you don't have to install wires or use landline phones.
Additionally, if you need to open a new office or move your current office to a new location, you now don't have to build a separate phone system. Your current location and your new location can use the same VoIP phone system.
Better Customer Service
To gain loyal customers, you need to provide better service. Client satisfaction is the key to retaining and attracting more clients.
An internet phone solution with a wide variety of integrations can help you manage customer data better and build stronger customer relationships.
Also, when your customers need your help, they can reach you anytime because you can answer their calls wherever you are within reach of an IP-enabled device.
How To Choose The Right VoIP Provider For Your Business
There are a lot of VoIP vendors in the market and it can be tricky to choose one when you have too many options. In order to help you find the provider that's best for your business, here are five steps you need to take:
1. Set a budget and the features you need
2. Focus on the top B2B VoIP services
3. Understand VoIP's security measures
4. Compare pricing plans and features
5. Review customer feedback on review sites
MSPs can take advantage of the free trials offered by VoIP providers to check out the quality of their service before committing money.
Getting a VoIP business phone system that offers robust integrations will keep your internal and external systems aligned and up-to-date.
Novocall, which offers a free demo, is a cloud-based VoIP solution that is a good fit for MSPs and tech startups—equipped with a suite of call management features and app integrations—to support your specific business needs.
Pair your VoIP with a robust PSA suite from SherpaDesk, and your MSP will have a set of powerful systems to help get your MSP to the next level.