By Nina Petrov (Tech Writer)
IT and MSP (managed service providers) professionals understand that in order to succeed, they need to be laser-focused on growing their business by handling as many customer requests as efficiently as possible.
Growth is good, but as IT and MSP companies grow, so does their customer base and the number of customer requests that tech teams receive daily.
In order to scale their businesses comfortably and safely, IT and MSP pros need a dedicated ticketing system that helps them improve their customers' experience and run a productive support tech support team.
This is where IT help desk software comes in as the solution to manage customers' requests efficiently and cost-effectively.
But one of the issues with rapid growth is that bad IT help desk habits tend to creep in when your tech team is busy and can open your business to numerous security risks.
That's why developing a robust security protocol, and best practices focused on IT security and data protection for all your operations is vital.
Let's explore some tried and tested best practices to help identify, prevent, and deal with security risks to enhance your IT help desk's security.
Identify Potential Help Desk Weak Points
Before we discuss concrete internal and external security risks, we need to stress the fact that network vulnerabilities can often stem from IT help desk staff as well as customers. While IT and MSP businesses need powerful security measures like a secure web gateway or a hardware firewall to keep their network safe, they must also focus on eliminating the human risk factor.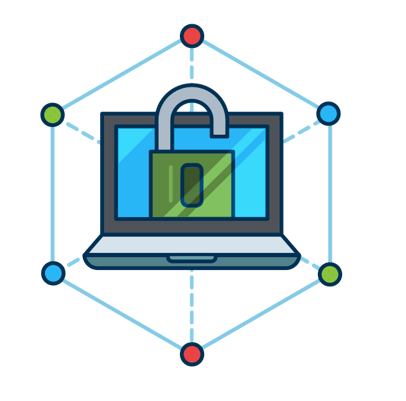 Likewise, IT and MSP business leaders need to keep up with the latest tech news and cybersecurity trends so they can be ready to deploy preventive measures early. Preventive action will allow MSPs to prepare for any potential security probing and defend against new waves of malware and malicious online activity.
Let's take a closer look at the potential internal security risks you might have in your IT helpdesk.
Threats From the Inside
Internally, MSPs can experience numerous security risks that predominantly stem from poor employee training and cybersecurity education, but also the lack of security policies in the workplace. Likewise, choosing the right talent for the job and properly vetting your candidates in the recruitment phase can greatly improve your data security potential right off the bat.
The Human Factor
More often than not, the help desk staff will be one of your biggest security vulnerabilities. It should go without saying that you need to train and educate your help desk staff on data protection, user protection, and the proper use of all your customer-facing security tools.
For example, you need to train your staff to identify potential scammers. If a scammer reaches out and tells you that they've forgotten their password, your staff needs to have concrete security check-ups in place to authenticate the user before proceeding.
Staff security training also encompasses personal device security, as well, making sure that all employees are using the right password storage solutions to keep all their login information safe. At no point should your staff ignore suspicious online activity in order to meet their KPIs and bring down their ticket resolution time.
Security should always be a top priority.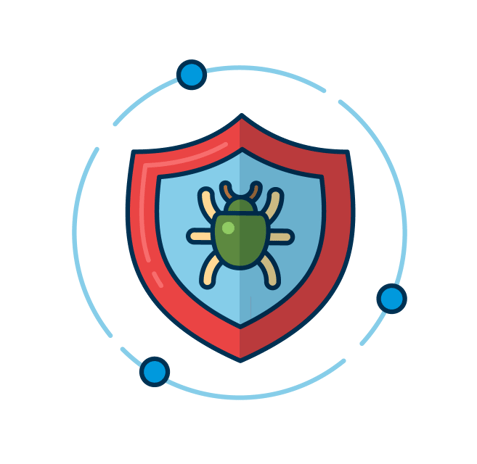 Educate and Train Employees on Data Security
When it comes to cybersecurity training and education for your employees, keep in mind that your help desk staff are not cybersecurity professionals. You only need to provide enough information and training to empower them to keep themselves and your customers safe by helping prevent data leaks.
To that end, your security training modules should cover:
*Phishing scams and how to spot them
*Suspicious communication and requests
*Proper customer authentication
*Proper data storage and access management
*Proper use of built-in security systems
*Creating and safeguarding strong passwords for all accounts and devices
That said, it's also important to minimize the human security risk by choosing trustworthy candidates.
Threats From the Outside
Now that we have covered internal security risks, let's take a look at the cybercrime trends and the most common types of security probing you can expect to encounter.
Ransomware
Ransomware is often spread through phishing emails containing a malicious link or a downloadable file that, when executed, will infest (lock and encrypt) a device. Once the device has been locked, a ransom will be requested to unlock and decrypt the files, but some ransomware can downright steal sensitive information.
Needless to say, you can't let this happen. One of the best things you can do is to monitor email domains and analyze every DMARC report for suspicious domains and email activity. This will help your team members identify potential phishing emails. With proper training on suspicious links and attachments, this will help keep your devices and accounts safe.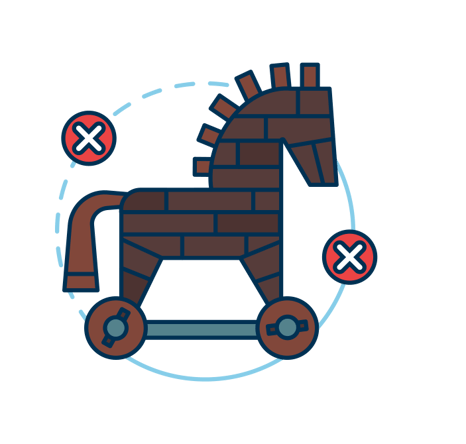 DDoS Attacks
Distributed denial-of-service attacks are intended to make the help desk platform unavailable to its users - your employees and customers alike. Now that these attacks are on the rise in the increasingly volatile online world and that hackers can coordinate their attacks or use botnets to flood the network, you need to invest in preventive measures.
Defending against DDoS attacks effectively is only possible with dedicated DDoS protection that filters all incoming traffic to identify non-legitimate requests. This ensures that only legitimate requests can pass through your network.
Worms
Devices and systems need to be scanned regularly for self-replicating worms so that they can be quarantined and eliminated. Worms can infest your systems in a number of ways and depending on their type, can bring down your entire system. When that happens, it's important to have a disaster recovery plan that will get your systems up and running quickly.
Trojans
Trojan viruses are typically localized on the device and don't spread through the entire system, but that doesn't make them any less dangerous. Trojan prevention will come down to cybersecurity training and education, but also regular system scans and powerful software and hardware firewalls that will identify threats and eliminate them before they infest the device.
Over to You
To maintain operational efficiency and safeguard your brand's reputation in a competitive market, you need to focus on cybersecurity. When using a help desk system, it's important to educate your staff on data security and important cybersecurity practices, while making an effort to educate your users as well.
Make sure to integrate preventive measures against common malware attacks and choose a help desk solution like SherpaDesk that's built around data security.
Do you think cybersecurity should be one of your priorities when using help desk software? Try SherpaDesk for free and see why our comprehensive software stands out from the rest!