Comfortable shoes? Check.
Business cards? Check.
Bag for swag? Check.
Guide to the 22 Must Attend IT/MSP Conferences of 2017.There's something special about attending a conference. The vast over-arching ceilings, thousands of people, free food and fancy booths. All about one may be able to hear the clicks and the clacks of new revolutionary toys bustling around. There is an ever constant murmur in the air that echoes upon the limitless confines of the show room.
As you can tell, I've had a good time at conferences.
There's a few tough points that no one ever speaks to about conferences, though. What about those strange moments of isolation? Those moments where there are thousands and thousands of people chattering away and yet we sit there alone wonder what is wrong this us.
You're not alone. Literally and figuratively.
Conferences are intimidating and we can shut ourselves down.
I have been a victim of the prideful ego many a times, where I walk into a conference "I am a social person" and by the end of day one I reflect on the two conversations I had wondering where my "swagger" went.
Today, we are going to tackle the two biggest pains of a conference.
First - getting the most out of a conference, even when alone.
Second - the best of the best list for Information Technology.
Our team here at SherpaDesk have gone scouring through the internet, reflecting on personal anecdotes and speaking to friends here in California.
This is the advice we gathered.
7 immediate tips to getting the most out of a conference (even alone)
ONE: Reach out to your network weeks in advance
If you are attending the conference alone, it can be critical to build and reignite old relationships before you get there. We all know how powerful that one wingman can be as someone to share the experience with is so important. Email old clients, vendors, friends or even speakers a few weeks in advance and ask to sit down and catch up over coffee. Thanks Kate Farrar (@KCFarrar) for this one!
TWO: Make friends using the conference hashtag
I attended the HubSpot Inbound conference in Boston, MA, completely alone. At the conference I discovered a hashtag on Twitter called #InboundSolo. It was for attendees who were sent to the event alone. I hopped into the conversation and made a great group of friends to hang with the whole time. Here is a shot of our #InboundSolo crew!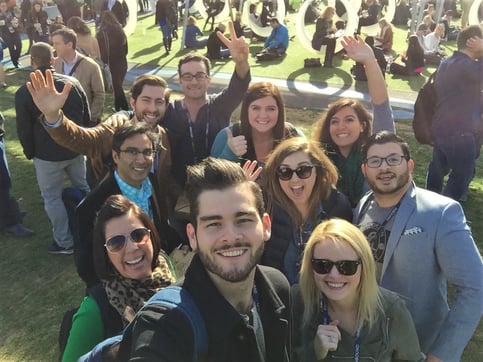 THREE: Don't go to all of the sessions
This sounds like a major rule breaker. But jam packing your stay in the city you are visiting and cramming 10 hours of knowledge into your head per day makes the conference a chore. The vendors and trade show as 90% of the fun! Let yourself move the direction you want most when you arrive.
FOUR: Put away your phone -- stop checking emails
The world will not burn down if your emails are delayed a response 12 hours. But what if there is an emergency? Whoever it is will call you. Slow down, let yourself breathe. You are at the conference to be at the conference. Don't leave your brain at the office. Put the phone away while you wait for a new session to start and strike up a conversation.
FIVE: Plan out your "must-see" sessions
Running through the event guide, event by event is critical. I didn't do this as thoroughly as I had hoped one conference and completely missed a session with a huge idol of mine. I found out he was in attendance when I bumped into him in the hall. A total lucky break.
SIX: Dress comfortably
Attending an event can be exhausting. Our CEO, Pat, said he has attended conferences where he racked up over 30,000 steps on his FitBit. Wear clothes that are both comfortable and able to give you confidence. Shoes are particularly important. Thanks to @yyzhou for the inspiration on this one!
SEVEN Have conversation openers ready
We have compiled some of our favorite conference openers, both anecdotes and from experts online. Put your favorites away in your pocket!
"Did you see all the wacky stuff they're giving away at the sponsor tables?" @learnvest
"I just tried a slider from the buffet table, and I think I'm going to grab another. Care to join me?" @learnvest
"What's been your favorite session so far?" @tweetatandrew
"As we're both here at the (buffet, bar, waiting room), I feel I should introduce myself. I'm [name] from [company]." @ainegreaney
Something jokey—like "I just came for these carrot sticks." Then ask a question, like "How'd you hear about this event?" @beetorr
Now that you are locked and loaded, it's time to pick the tickets for the top conferences around. Scouring the internet is tough. Lots of lists, too little time.
That's why we have put all the things you need together into one spot. One list to rule them all.
The 22 Must Attend Conferences for IT/MSP
Dates: March 5, 2017 to March 7, 2017

Location: National Harbor, MD

Tickets: Apply to attend
Twitter:
@TheChannelCo
The low down:

XChange's ever-evolving and unmatched agenda has kept thousands of top executives from leading organizations coming back for the past two decades. These decision makers converge to learn and grow from peers, thought leaders and analysts. The actionable agenda focuses on the products, programs and business models making the biggest impact on the channel today.
2. InfoSecWorld Conference and Exp
Dates: April 3, 2017 - April 5, 2017

Location: Orlando, FL

Tickets: $1,995 for gen. attendee

Twitter: @MIS_Training

The low down:

InfoSec World 2017 Conference & Expo provides practitioners with the ideal forum for learning about the latest advances and most cutting-edge strategies for ensuring optimal security within their organizations, despite the progressive threat landscape.
Dates: December 11, 2017 - December 13, 2017

Location: Los Angeles, CA

Tickets: $295

Twitter: @NexGenConf

The low down:

NexGen is designed for the solutions providers on the cutting edge of the channel building business models around these next-generation technologies. Topics range from Security, Big Data, Business Intelligence & Analytics, Mobility, IoT and so much more. The team aims to provide actionable advice. No banal platitudes here.
Dates: March 26th, 2017 - March 28th, 2017

Location: New Orleans, LA

Tickets: $399

Twitter: @MSPWorld

The low down:

MSP World claims itself to be the premier conference for Cloud & MSP Professionals. It is a good event, indeed. They bring in experts and pick great cities for their events. It is open to everyone, not just members :-)
Dates: May 9th 2017 - May 12th 2017

Location: Washington D.C.

Tickets: $2095 final call (early bird offered)

Twitter: @ThinkHDI

The low down:

The HDI 2017 Conference & Expo is the technical support industry's most comprehensive event. Whether you're a frontline technician, new manager, seasoned team lead, distinguished VP, or CIO—there's something for everyone at HDI 2017. A ton of learning. Nonstop networking. A whole lot of fun. In the end, you'll get everything you need to make your life as a tech support professional considerably easier.
6. PinkCONNECT
Dates: April 5th, 2017

Location: Online

Tickets: Free

Twitter: @theitilexperts

The low down:

Re-Inventing ITSM For The Next Generation... a "live" web-based conference bringing together IT experts, practitioners and solution providers from around the world in one convenient and easily accessible online location. The program will offer sessions, discussion panels and case studies on ITIL and its symbiotic relationship with Lean and Agile.
7. IT Financial Management Week
Dates: April 24th, 2017 - April 26th, 2017

Location: Chicago, IL

Tickets: $2,199 final call (early bird offered)

Twitter: Hosted by @Apptio

The low down:

IT Financial Management Week is a unique event that attracts professionals from all over the finance world. If you attend, expect to rub elbows with other IT managers from small and large companies. Featured topics include IT investment strategies, technology and business management, and developing your product portfolio.
Dates: October 9th, 2017 - October 11th, 2017

Location: Austin, TX

Tickets: $599 final call (early bird offered)

Twitter: @Spiceworks

The low down:

No IT conference list is complete without Spiceworld. SpiceWorld isn't going to be your most cutting edge information, but it is solid foundational items and totally fun energy. SpiceWorld hosts IT sessions to help you level up your IT skills, hang time with hundreds of fellow IT pros, Tech vendors handing out cool swag and talking tech, Plenty of pints, partying, and good times.
9. TechMentor
Dates: August 7th, 2017 - August 11th, 2017

Location: Redmond, WA

Tickets: $2,395 final call (early bird offered)

Twitter: @TechMentorEvent

The low down:

The TechMentor technology conference is designed for IT managers who want to get back up to speed on some of the basics. But don't worry, the event is catered toward experienced professionals rather than industry newbies. So if you attend, you'll be with your peers and you're not going to be bored.
10. DreamForce
Dates: November 6th, 2017 - November 9th, 2017

Location: San Francisco, CA

Tickets: TBD

Twitter: @Dreamforce

The low down:

I am not sure if we need a description here. DreamForce brings in nearly 150,000 people to San Francisco every year. It's basically three football stadiums of party. Speakers have included Melinda Gates, Nancy Pelosi, Mark Cuban, Tony Robbins.
Dates: October 1st, 2017 - October 5th, 2017

Location: San Francisco, CA

Tickets: $2,650

Twitter: @oracleopenworld

The low down:

Also a very large conference in San Francisco - Oracle OpenWorld 2017, the annual Oracle convention for business decision-makers, IT management, and line-of-business end users is being held this year again in San Francisco this October. Covering everything from cloud to commerce, from social engagement to supply chain management.
12. AWS re:Invent
Dates: November 27th, 2017 - December 1st, 2017

Location: Las Vegas, NV

Tickets:TBD

Twitter: @AWSreInvent

The low down:

400+ breakout sessions, workshops, and other ways to learn. Amazon puts on a big show in Las Vegas to reach their customers. There is not much information on this conference on their website. We haven't been so we can't speak to it's quality. It is Amazon, though.
13. OpenStack Summit
Dates: May 2017 for Boston, November 2017 for Sydney

Location: Boston and Sydney

Tickets: $600

Twitter: @OpenStack

The low down:

The world runs on open infrastructure. At the OpenStack Summit, you'll learn about the mix of open technologies building the modern infrastructure stack. Whether you are pursuing a private, public or multi-cloud approach, the OpenStack Summit is the place to network, skill up and plan your cloud strategy.
14. Monitorama
Dates: May 22nd, 2017 - May 24th, 2017

Location: Portland, OR

Tickets: $600

Twitter: @Monitorama

The low down:

Focused on open source monitoring and hacking, Monitorama brings leading open source developers, Web operations experts, and associated thought leaders together. Attendees gain insights into the tools and techniques that are being used in use some of the largest Web architectures in the world.
15. Google I/O
Dates: May 17th, 2017 - May 19th, 2017

Location: Mountain View, CA

Tickets: Apply here then $1,150

Twitter: @googledevs

The low down:

The gem of gems. This is Google's premier event for developers from all types of technology platforms. Attendees see organizations and developers showcasing their products and have access to Google's upcoming technologies through various seminars and sessions.
16. Interop
Dates: May 15th, 2017 - May 19th, 2017

Location: Las Vegas, NV

Tickets: $3,299 final call (early bird offered)

Twitter: @interop

The low down:

Interop is a bit more focused on the specifics of IT than Google IO. You'll notice the two overlap. Tough call! This event showcases the latest in network infrastructure. It offers ways to leverage the applications and technologies the network supports to help attendees get the tools they need to elevate drive business success.
17. Oscon
Dates: May 10th, 2017 - May 11th, 2017

Location: Austin, TX

Tickets: $2,695 final call (early bird offered)

Twitter: @oscon

The low down:

Here is where the open source community gathers to celebrate achievements, spark new ideas, and map the future of open computing through collaboration and education.
18. VMUG
Dates: Many

Location: Many

Tickets: Free

Twitter: @MyVMUG

The low down:

The VMWare User Group provides free events to maximize learning. These are a special gem we urge everyone to take advantage of. There are many events in many different locales. Expert information here. Get it while you can.
19. DEFCON
Dates: July 27th, 2017 - July 30th, 2017

Location: Las Vegas, NV

Tickets: $260 cash only at the door

Twitter: @defcon

The low down:

DEFCON is an oldie for sure. We at SherpaDesk are huge fans of their non-traditional style. Cash at the door? Event in Caesar's Palace? What a time to be alive. DEFCON is a world's leading conference for hackers. So expect a level of secrecy and back-door rooms for evil trade deals. Kidding. Attendees include computer security professionals, journalists, lawyers, federal government employees, security researchers, and hackers with a general interest in software, computer architecture, phone phreaking, hardware modification, and anything else that can be cracked.
Dates: Multiple

Location: Multiple

Tickets: Free

Twitter: @microsoft

The low down:

Another winning gem. The Microsoft Cloud Roadshow is much like the VMUG events. Pros just riding around telling you how to get the most out of their product for free. This is a two-day technical training event for IT pros and developers. It offers best practices and insights directly from experts who build and run the cloud services across Office 365, Microsoft Azure and Windows 10.
21. ILTACON
Dates: August 28th, 2017 - September 1st, 2017

Location: National Harbor, MD

Tickets: $1795 final call (early bird offered)

Twitter: @ILTAConf

The low down:

ILTACON is a neat one. In the wonderful National Harbor, home to the newest MGM Casino, ILTACON is a four-day educational conference that draws on the experience and success of professionals employing technology within law firms and legal departments. Learn what's ahead and how to succeed in driving and embracing change within your teams and organizations. All educational content is developed by a conference committee of 40+ peers.
22. CiscoLive
Dates: June 25th, 2017 - June 29th, 2017

Location: Las Vegas, NV

Tickets: $3195 final call (early bird offered)

Twitter: @CiscoLive

The low down:

Another one of those huge conferences that call themselves premier. However, CISCO Live is definitely big time! A top education and training destination for IT professionals worldwide. This event hosts thousands of technology innovators for a transformational experience that includes today's IT visionary thought leaders. Expect more than 1,000 education sessions.
And that is that! As you can imagine, there are plenty other conferences in the space. We are confident, though, that this list will supply you with your needs above and beyond to become the even more masterful IT Specialist you so desire.
If what you are looking for is not on this list, hit us up and we will get you where you need to be.