The life of the mobile technician just got easier.
We at SherpaDesk are excited to announce a few new features that enhance the mobile experience for our users, specifically the technician.
This update was launched November 16th and is live on all mobile devices.
New features:
1) Easier Ticketing - File Attachment on Mobile
Now on your mobile device, when updating a ticket you can attach files, images, or videos directly onto the ticket. As always, tickets are immediately synced into our cloud servers and the web tickets are updated automatically.
Managers back at the office will immediately be able to see whatever documents or images you upload right inside the ticket.

2) Faster Discovery - Ticket Search Added to Mobile

An updated search function has been added for ticketing. Search for tickets easily by subject, user, project, class or any identifier.

3) Easier Navigation - New Layout for Ticket Details
Details are now much more simple and easier to read.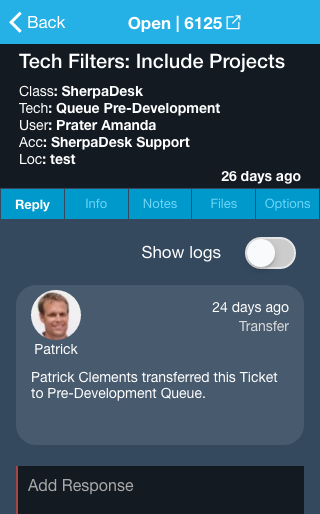 We have included labels to allow you to easily identify the values of each field.
We have also added a switch button titled "Show Logs", this button allows you to toggle on/off ticket log ticket information.

4) More Security - Global Filters Added to Mobile
Previously, setting global filters to technicians on the SherpaDesk platform did not translate into mobile. Technicians could still see all tickets.

We have now improved this feature to translate on all platforms. Now via mobile, desktop and Chrome extension, you can filter your technicians and only allow them access to the data that you want them to see.
5) Convenient Ticketing - Recent Choices Added to Mobile
The mobile application now stores data based on recent items you have entered.
If you are adding multiple tickets in one location, items such as tech, class, time and expenses will generate your most recent submissions to help expedite ticket and time creation.
6) Easier Note Taking - Editable Notes Added to Mobile
When ticketing, the note section has been placed into edit mode by default. So now, instead of clicking a separate button to enter this mode, it is on by default and automatically saved in real-time to the cloud.
Gotta love the cloud.

That's it for this round of updates.
As always, we are working to make your ticketing experience easier, faster and more convenient.
See Upcoming updates:
Mobile To-Do Lists
We have a lot of things in store for the future, but one convenient item that we aim to add
in the next update are ToDos.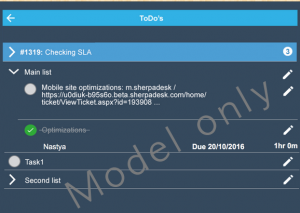 As always we appreciate any feedback on how we can make your mobile experience better. Please let us know your thoughts. Until next time, keep scaling!