By Florin R. Ferrs (Tech Writer)
These days, just about every IT Pro with a customer-facing MSP business has to have an active presence on social media. Or at least, things are trending rapidly in that direction. For new business owners, however, or those who are just beginning to explore better ways to engage with their customers, it's not always readily apparent why social media is so important — or even how to use it effectively.
Let's explore why and how IT Pros should integrate social media into their customer journeys.
Your Competition Is Already On Social Media
IT pros that ignore what their competitors are doing on social media do so at their own peril. Social Media is such a fundamental aspect of promoting IT and MSP startups that Chron Small Business frames the whole question of integrating social media into your digital marketing as a "competitive advantage." As that piece points out, small IT and MSP businesses in particular stand to benefit greatly from having strong social media operations, given their generally limited resources for acquiring and retaining customers. The other learning point is that businesses that don't integrate social media into their marketing (and customer journeys) will inevitably fall behind those that do.
SEO Benefits
Developing a robust and widespread social media presence will also help your IT business perform better in the SERPs — which in turn puts your business in front of more potential customers. Leveraging social media for SEO benefits is actually a complex process, essentially amounting to a digital marketing operation unto itself.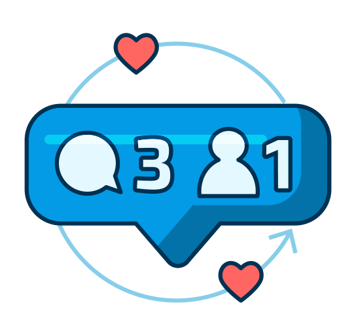 In the most general terms though, growing your MSP company's presence through social media platforms expands the company's visibility, making it more relevant and thus more likely to appear in SERPs as potential customers are highly likely to do a quick Google search of your brand after viewing your social media posts or ads.
Developing Your Brand
Developing a "brand" for your IT startup can become a never-ending effort but it pays off handsomely. Nowadays an IT company's "brand" is essentially its personality. This personality, in turn, is developed by their social media presence. One of the best reasons to integrate social media into your customer outreach is to help establish a brand voice that lends your business a defined personality that connects with your potential customers. Modern consumers are simply more enthusiastic about dealing with companies they feel like they know and social media is a great tool where to expose your IT startup's brand "personality".
Driving Customer Satisfaction
In the article 'Now is the Time to Boost Customer Satisfaction' we pointed out that in these tumultuous times it's more important than ever to be present for and supportive of your customers. It was also mentioned that communicating "constantly" was one way to do this.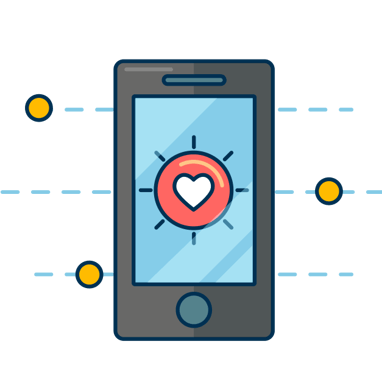 Naturally, one way to establish that constant communication is via social media! IT startups should look at social media as an invaluable tool through which they can provide updates and address concerns, all in the name of directly driving satisfaction. Smart IT pros that use social media to solve their customer service issues will stay ahead of the game when something goes 'catastrophically' wrong like when your site goes down or there's an issue with your servers.
Harvesting Data
As with SEO, harvesting data from social media activity is essentially an operation unto itself. Nonetheless, customer data is an incredibly valuable aspect of integrating social media into your customer journeys. Through social media, your IT business can not only interact with customers, but log their feedback, observe their demographics, and so on. These practices help MSP and IT startups to gain a much clearer picture of their target audiences, their customers' preferences, and what sort of content is the most effective. This information ultimately leads to thoroughly refined customer outreach content and brings greater satisfaction on all sides as your social media content will be perfectly tailored to your customer's needs.
Determine Your Social Platforms
There are dozens of social media platforms out there, and unless you're able to hire an entire social media department you won't be able to put your IT business on all of them. The good news is, you shouldn't have to! At the outset of any social media integration effort, one of your goals should be to identify the handful of platforms through which you can do the most effective engagement. Right now it's fair to say that a majority of businesses are focusing mostly on some combination of Facebook, Twitter, Instagram, TikTok, Pinterest, and LinkedIn. Those are good platforms to start with. But depending on the nature of your MSP business and your target audiences, you'll ultimately find that some platforms deliver more for you than others. Smart IT pros make sure to hone their social media strategy accordingly as some will be more effective than others depending on where their target customers are.
Gain New Followers
It's a given that you'll want to gain followers on your IT business social accounts. How you go about doing so is a matter of strategy, and it tends to take a bit more than just consistent engagement (though engagement helps!). In a number of posts about growth strategies, AskMoney has covered a number of helpful strategies for gaining followers — such as learning how a particular social platform's algorithm works, employing hashtags, engaging with similar social media accounts, and publishing content that triggers emotion. These strategies were recommended specifically for Instagram, but frankly they work for most of the major platforms, and will certainly help you to grow your social media IT startup's account.
Engage With Your Customers
In order to drive customer satisfaction, IT startups' use of social media should consist of direct discussions with their customers. An article by Forbes went a little further and describes specific ways to engage with customers on social media, and makes good recommendations that are easy to follow. These include "pulling back the curtain" to show behind-the-scenes aspects of your startup; teaching your followers about new products or services; showing a sense of humor; sharing content that is of interest to their target audience, and directly selling products (which is possible on some platforms). Strategies like these lead to friendlier and more personable social media engagement.
These tips should help get you started on developing the foundation of an effective social media strategy for your IT startup. For more on this topic, scaling your IT startup, or the best IT helpdesk tools, check out our tips and tricks at SherpaDesk!