by Jessy Smulski
The business technology landscape at large is a bizarre, and paradoxical environment laden with unpredictability at every turn. An IT helpdesk business cannot survive without technology, but automatic adoption imposes serious risks. Technology helps businesses run more efficiently and intelligently, but exposes us to rivals on all fronts — domestic, digital, and international. In this strange new world competitors double as allies in a greater war against the evil forces lurking in cyberspace. It's the Fifth Element meets Mad Max, but instead of the post-apocalypse, we're dealing with a technological revolution. And just like in the movies, we have an unlikely hero — your every day system administrator.
They may not go by edgy names like Mad Max, Furiosa, or Leeloo, but system administrators are nonetheless gallant! They shoulder the responsibility of all business technology so that we have the means to work smarter, not harder. They protect our assets, defend our domains, and ultimately — they make the office work. It's a demanding job that few envy and even fewer are qualified to handle. That's why these workplace heroes deserve an entire day of dedication.
On July 27, 2018, don't forget to celebrate International System Administrator Appreciation Day!
Here are 5 reasons why you should commemorate your system administrator with all the fixings of a grand jamboree (or at least plenty of praise and some donuts in the break room).
System Administrators Are the Creators of Your IT Environment
System administrators are the ones who build and reinforce your IT infrastructure. Brick-by-brick, or rather, hardware-by-software. They set up servers, install operating systems and routers, integrate software programs, and more. These components aren't just whimsically tossed together, either. Your IT infrastructure was custom designed and configured to align with the specific needs of your business operations — all by the master-hands of your system administrator.
System Administrators Are Your First-Responders
Between the volatile nature of technology, the widespread tech illiteracy of most workforces, and the unpredictabilities of mother nature, system administrators have no choice but to sleep with one eye open. Rain or shine, day or night, weekday or weekend, holiday or not — they are your first responders when something interferes with the technology that powers your business. When small fires flare up, like an email server crash or a malfunctioning printer, they race to the rescue. If a large-scale outage occurs, they kick into superhero mode. Even in the face of a major weather event or natural disaster, you can bet that your system administrator is on the scene or remotely plugged in, working to keep your business networks and systems up and running.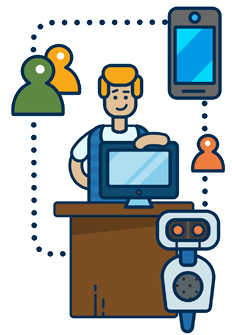 System Administrators Are Your Gate-Keepers Against Cybercrime
54% of companies experienced one or more successful cyber attacks in 2017 that compromised data and/or their IT infrastructure. Attacks are growing more sophisticated and aggressive. And they're evolving so fast, it's a full-time job just to stay ahead of them. Cyber attacks are expected to continue increasing well into 2019. System administrators are on the front lines fighting this war to protect your assets. They stay on top of cybersecurity news and help develop and manage your organization's cybersecurity strategy. This includes the implementation of necessary firewalls, access controls, and anti-virus and anti-malware protection. System administrators are also your watchdogs, closely monitoring these controls, patching security updates, and making certain that all security measures are compliant with industry regulations. Should an attack infiltrate your systems, system administrators have a data back-up and data-breach recovery plan with detailed, actionable instructions on how to immediately flush out the intruder, regain control of data, and reinforce security walls (or at least they should, that's why it pays to hire a good one!)
System Administrators Are the Excavators of Your Valuable Data
Data analytics and business intelligence are the blood and backbone of your organization. But these technologies don't deliver data in an intelligent form. Data must be made intelligent. As the person most familiar with your IT infrastructure, your system administrator is the person who connects software solutions to your data sources and creates the workflow that will be used to aggregate, filter and organize your data for data scientists to analyze.
System Administrators Are The Key to Your Future
The market is on the brink of experiencing a terrible data scientist shortage. In response, forward-thinking companies are looking within for talented employees with the right skillsets to train as "citizen" data scientists. Enter — your humble system administrator. Among many other potential candidates, your system administrator is keenly aware of all environments that play a part in data aggregation and implementation. They understand your business drivers, data analytics software, and your IT infrastructure at large, which makes them a valuable resource for data science trainees or a promising candidate for the position.
By now, you should feel immense gratitude for your system administrator. Odds are, they've bailed you or your business out of more than a few stressful situations. At the very least, they deserve a shout-out! On July 27th — say IT loud and say IT proud:
Thank you, system administrators! Your hard work does not go unnoticed. We appreciate all that you do — large and small — to make our jobs a little easier.
Creative Ways to Thank Your System Administrator
● Throw a work party or organize an office happy hour
● Create an energy gift basket filled with energy drinks, power bars, and their favorite office snacks
● Have the entire office sign a thoughtful card. Encourage them to share specific instances where the system administrator helped them out
● Give your system administrator event tickets
● Help your system administrator geek out with a gift certificate to ThinkGeek, Cafepress, or Amazon