By Florin R. Ferrs (Tech Writer)
Are you doing everything that can be done to ensure that your business continues to offer world class customer service tomorrow?

Many IT managers and entrepreneurs place most (if not all) of their focus on their business's go-to market strategy and their app's underlying code ahead of their customer service strategy, which is a big mistake.

Smart entrepreneurs realize that their business's customer service philosophy must be one of their app's or website's primordial ingredients at launch. The earlier your customer service philosophy is integrated with your go-to-market strategy, the bigger the chance that your app and website gets built from the ground up with your customers' ease of use and well-being in mind.

Get Inside Your Customers' Minds

When thinking of their app's and website's design, content, and UI/UX, smart business owners know that they need to stop thinking like entrepreneurs for a minute and get inside their customers' minds. This includes visualizing the entire customer journey from the first point of contact, through conversion, retention, and referrals. Neglecting to think of your website, app, and customer journey from your ideal customer's point of view can mean the difference between a successful business launch and failure. This includes offering several different customer journeys tailored to varying customer personas (based on industry, age, interests, job titles, etc.). This is when your customer service philosophy joins the fight with your go-to-market strategy, enabling your business to offer a one-two punch when it comes to delivering the best leads to your sales team. For example, the content/customer journey for IT department customers who will be using your software/app should focus on the more technical aspects, ease of use, etc., whereas the customer journey for the decision-makers should be more focused on the economic benefits (how your service will save them time and money and help beat their competition, etc.).

A well-integrated customer service philosophy must be married to smart UI/UX to provide your qualified customers with the most natural path to conversion by providing a clear view of the solutions you're offering them. By marrying the solutions that your business provides to the problems your customers need to solve, you provide a perfect environment for your customers to convert, remain customers for the long term, and refer your business to their friends.
The Human Factor
When it comes to developing a winning customer service philosophy for your business, the biggest weak point/Achilles heel can be the human factor. This is the rocky shore where many legacy IT and PSA software companies shipwreck.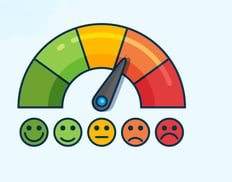 Almost anyone can be expected to deliver top-class customer service as a startup or as a small business, but scaling customer service to remain at the same high standard as a business grows can be a massive challenge, even for big legacy players like Zendesk and ConnectWise who found themselves shorthanded when it came to serving their ever-growing customer base.
The challenge of maintaining a high level of customer service as their customer base grew exponentially became an albatross around their necks, and their service standards dropped due to the twin evils of offshoring entire support departments and failing to communicate a clear customer service strategy across the board. This failure of legacy players to develop a clear and concise plan to continue offering a high standard of customer service as their businesses grew is a blight in the SaaS world and has resulted in a slew of slow and bloated legacy PSA systems that are becoming unable to provide world-class customer service to their new and existing customers. This is a well-known issue that lowers expectations across the board.
But smart customers vote with their feet and more and more refuse to continue receiving a constantly-devalued level of service. This exodus of discerning customers from bloated and slow legacy PSA systems became severe enough for ConnectWise's CEO to put out a communique that made headlines when he said that ConnectWise had "Definitely Failed" in communication to partners and workers when it came to the company's goals and priorities.
ConnectWise's CEO lamented failing to establish a clear customer service strategy when declaring:
"Internally, someone asked what are we (ConnectWise) doing to make support better? I asked them how many resources we had when we started the year? How many resources are we at currently, and they had no idea, right? So we're not even just not good at communicating externally, we have the same internal challenge. That's where we definitely failed in this aspect."
This failure by one of the biggest legacy players in the PSA space is forcing discerning customers to search for a ConnectWise alternative that better aligns with their business's needs.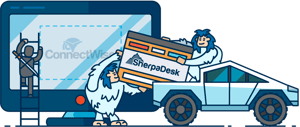 How To Implement A Successful Customer Service Philosophy in Your Business or Startup
To get some insight into establishing a successful customer service plan, we reached out to Patrick Clements, SherpaDesk's co-founder and CEO, and the person behind implementing SherpaDesk's award-winning customer service.
Patrick Clements (SherpaDesk CEO)
"When I think of implementing a successful customer service philosophy in the SaaS, IT, and PSA world, I think of incorporating customer support as a whole company. Customer service can't just be relegated to your support reps. Everyone, from CEO to interns, should know the fundamentals of the solutions available to help your customers in tier 1 support. As things get more complicated, then you can escalate it up to tier 2. My philosophy is always to keep support local, but you can only accomplish this when everyone in your organization, from the CEO down, is fluent in your support solutions".
But How Do We Accomplish This?
Lofty goals and philosophies are great, but the devil is in the details. Only companies that make sure they bake in their service strategies into the core of their software, UI/UX, and training strategy (both internally and for their customers), will succeed.
The Four Pillars Of Excellent Customer Service
1-Make Your UI/UX Intuitive and Easy to Use
Most IT experts and business owners understand the importance of good UI/UX. It makes it easy for your customers to navigate your website or app and helps drive more conversions. The secret sauce is when your UI/UX design philosophy also extends to the back end used by your customer service reps (and everyone in your company). Making sure that your ease of use is just as good in the back end as in the front end can guarantee faster and better service for your clients. By basically baking-in ease of use, you guarantee speedier support times and better customer and employee satisfaction. It's the gift that keeps on giving.
2-Make Your Onboarding Process Super Simple
Making your customer onboarding process super smooth and specially tailored to your customers' needs is crucial. This lowers the need for one-on-one support calls. By also having the same philosophy when onboarding new techs and employees, you can guarantee that your staff is always ready to serve your customers and not stuck on a long learning curve.
3-Build a Robust & Easy-to-Use Knowledgebase
A robust knowledgebase tool is the secret sauce that keeps your customers happy because most straightforward questions and issues can be quickly resolved by consulting the knowledgebase. This frees your staff to focus on customers who might have a more significant problem or technical need. A well-constructed knowledgebase tool becomes the 'bible' that any member of your staff can consult when helping a customer and can also become a selling point for IT managers to offer tailored knowledgebase portals for their customers, hence saving time and money for your customers (and your customers' customers also).

4-Produce Informative Videos and How-Tos
By releasing a steady stream of videos and how-tos, you can extend your knowledgebase's power with each new feature and enhancement. This benefits your customers and your employees by clarifying how to get the best out of your tools and providing continuous education on your products and services for your staff. That way, every customer service rep will be more confident and knowledgeable and can easily keep up with their ongoing training regimen via these videos.
We hope these tips help you implement strategies to make sure your company continues to offer world-class customer service tomorrow, even as you grow exponentially.