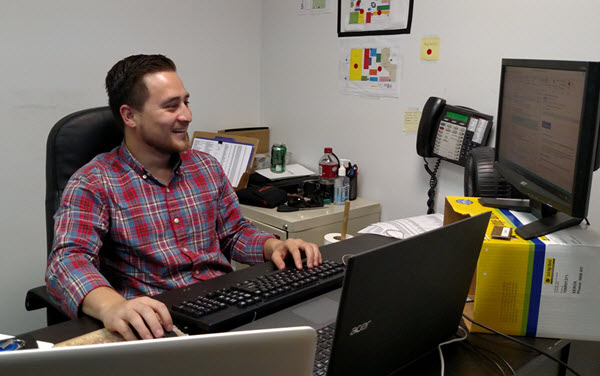 Matt Cabanas
IT Manager
The Link Companies
Atlanta, GA
Favorite Movie: Tommy Boy
Favorite Music: Classic rock, techno, video game tracks
There's a continuous hum from the three servers lining the shelf in Matt Cabanas' office. The background noise is comforting for him as he checks the images streaming across the two monitors on his desk.
As a team of one, Matt supports 25 in-house users and 80 remote users as the IT Manager for The Link Companies based in Atlanta. His employer is a trusted conduit between manufacturers and retailers. Matt's job is to make sure that the corporate staff, territory managers, websites, marketplaces and showrooms have the technology needed to keep customers happy and the business profitable.
"I do everything from help desk to networking to servers to printers to infrastructure and wireless. There's never really a typical day for me," he says. "It's always more like what am I going to run into today and what plans and tasks do I have."
Growing up as the son of career-military parents, Matt was exposed to various cultures and a variety of career choices. "I didn't plan on working in IT," he notes. "My background is actually in the service industry. I don't have any formal training as far as IT goes. For me, it has definitely been learn as you go."
He has been working in IT for three years now, starting out as an IT contractor to a variety of companies before becoming an IT Manager. He enjoys the fast-paced environment and the opportunity to problem solve, "I've always been a tinkerer, so it's never a problem to learn something and figure it out."
When he can't, he gets a little support from his peers in the Spiceworks community. As a Spicehead, Matt says he turns to the community for answers when he can't figure something out on his own. "Even if it's the first time you've seen the issue, I guarantee someone else has already seen it and dealt with it."
Want to hear directly from Matt about his work and thoughts on SherpaDesk?
Check out this two-minute video.
In addition to being a problem solver, Matt's experience in the service industry also helps him be a better IT professional. "A lot of tech guys don't know how to deal with people. But that's a big part of what you have to do, dealing with end users and helping them solve issues in a nice way."
Like most IT professionals, Matt says having the right set of tools - SherpaDesk being one of them - is key to his success at The Link Companies.
"SherpaDesk is great. I've tried many different ticketing solutions and SherpaDesk works best for me."
Matt used SherpaDesk at his previous IT company where they serviced a variety of clients. "I knew it was very easy to set up, very easy to use. I can have a new instance up and running in 10 minutes." He says the solution's flexibility is another reason for choosing it in his new role. "You have the flexibility of using all of its functionality or just parts based upon your needs."
Matt also makes use of SherpaDesk's reporting functionality. It helps him identify opportunities to provide specific users with additional training, as well as accounting for his time with his boss. "The reports paint a picture of what I do with my day and what issues or users claim the biggest chunk of time."
Although he is "the IT guy" 24 hours a day, seven days a week, he says he still finds time to escape. "When I'm not working on computers, I try to stay away from them. I like the outdoors so I might go hiking, go to a music festival or just hang out with my puppy. I try to stay pretty active."
We're thankful to count Matt as a customer and glad that SherpaDesk is helping guys like Matt get the job done.