When new technologies or business frameworks are introduced, they usually follow a sigmoid curve. This S-shaped curve has a slow, deliberate beginning before it explodes upward with growth in the middle and, eventually, plateaus. This is where the managed services industry finds itself today: on the cusp of a steep climb into an unknown future.
It goes without saying that cloud computing will be at the center of this growth. But artificial intelligence may be the accelerant that takes it to the next level. AI-driven automation will enable managed service providers (MSPs) to manage, monitor, and optimize their customers' networks more efficiently.
Unfortunately, there are no clear signposts telling IT professionals about the changes to come. The traditional service-level agreement (SLA) is becoming obsolete as customers demand more from their providers, including greater scalability, flexibility, and "on-demand" services. This will force MSPs to shift away from one-size-fits-all SLAs and instead focus on customizing offerings for each customer based on their specific needs.
Let's examine some new challenges already starting to materialize in the managed services industry and how to navigate them successfully.
The State of the Industry
Without establishing the baseline of where we are, it's impossible to chart a course for where we're going. By and large, the managed services industry is still in its infancy. It has been around for nearly two decades but only recently achieved mainstream acceptance.

With that acceptance, though, comes competition. In a 2022 Global State of the MSP Report, nearly a third of MSPs ranked competition as their biggest concern. Revenue growth and profitability trailed close behind, indicating that the managed services industry can enter a precarious position if its leaders are not ready to pivot to face new challenges.
RECESSION ECONOMICS
With exploding inflation, overall market cooling, and a looming recession, MSPs professionals wonder if these economic pressures will impact their business.
Fortunately, the managed services industry is well-positioned to weather the financial storms that may come it's way. Because MSPs provide a recurring revenue stream, they are more resilient than their one-time service counterparts.
This recurring revenue stream can help insulate MSPs from sudden downturns in demand and offers opportunities to upsell, increase prices or add new services as needed.

UNDERSTANDING IT SPENDING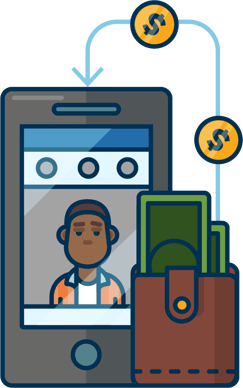 At the end of 2022, Gartner's forecast for IT spending this year was strong. A 6.8% global increase was seen as a positive sign for the managed services industry, as it indicates that businesses are continuing to invest in their IT infrastructure. However, IT spending is not always predictable. By mid-January, that model had changed to forecast a 2.4% increase, much lower than previously expected. This demonstrates the need for MSPs to stay agile and adapt to changing market conditions, but it also highlights that IT spending is still strong and likely to remain so.

SHRINKING LABOR MARKET
One of the biggest concerns is that while IT spending increases, the labor market is shrinking. This could create a talent shortage for MSPs, as there may not be enough qualified personnel available to meet the increased demand. "CIOs are losing the competition for talent," said John-David Lovelock, a Gartner analyst, explaining how skilled IT personnel are moving away from enterprise operations and into the managed services industry.
What's Next for MSPs?
So what will the future bring? What shifts will MSPs have to make to stay competitive and profitable? Here are five things we can expect to see in the coming years.
FROM OUTSOURCING TO PARTNERSHIP
At one point, an MSP was simply someone who provided IT services to companies that wanted to outsource their technology needs. However, as businesses become increasingly reliant on technology, the MSP-customer relationship is starting to look more like a partnership. MSPs will need to be willing and able to take on additional responsibilities beyond technical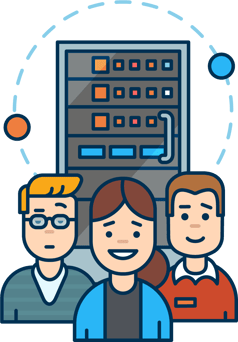 support or infrastructure management. This could mean anything from helping customers with business strategy and process optimization to developing custom applications and software solutions tailored to their needs.

A SEAT AT THE TABLE
The traditional MSP model is rooted in service delivery, but the future will require a more proactive approach. MSPs must become trusted advisors who are invited to the table for all major technology and business strategy decisions. As internal IT spending decreases, the expertise of outside providers will become more valuable and required for successful business operations.
CIO-AS-A-SERVICE
Even more than just guidance, some MSPs are beginning to offer "CIO-as-a-service" packages that include a dedicated executive responsible for the customer's entire IT strategy and operations. This will be especially attractive to small businesses, as it eliminates the need for an expensive in-house CIO without sacrificing quality. Still, the limit to this offering is the expertise of the MSP. The more comprehensive and sophisticated the package, the more expensive it will likely be—but it could also mean greater customer satisfaction and loyalty.

FOCUSING ON NO-CODE SOLUTIONS
At one point, it appeared that there would be a natural rise in the technological understanding of users. However, this has not been the case, as many organizations have limited resources to bring on IT professionals and invest in training their staff. To ensure they're meeting customer needs, MSPs must focus more on no-code solutions that can be implemented quickly and easily with minimal technical requirements. This will provide customers with a cost-effective option that still gets the job done without having to hire dedicated IT personnel or pay for expensive custom coding projects.

SUSTAINABILITY SCALES
Every industry eventually reaches a point where the spotlight is turned around, and the managed services industry is no different. It's becoming increasingly important for MSPs to demonstrate their commitment to sustainability, both in terms of the environment and their own business models. This will mean developing green solutions—such as virtualization and off-site data centers—that are more energy-efficient, cost-effective, and reliable than traditional approaches. It will also require taking a hard look at pricing structures in order to ensure that they are fair and equitable while still allowing the MSP to remain profitable.
Final Thoughts
One final word of warning: omnichannel customer service is becoming more and more important for MSPs. Customers increasingly expect to be able to interact with their providers via a variety of channels, including phone, chat, email, and social media. And they want those interactions to be fast and effective.
The managed services industry may have started off slowly, but it is on the cusp of a major transformation. For MSPs that are ready for the challenges ahead, there are huge opportunities to capitalize on the growth in demand and truly differentiate themselves from competitors who remain stuck in an outdated model.