Did you know that SherpaDesk is optimized for collaboration? That's why we've made it easy to add extra techs, so why not invite a friend? We have one of our famous Yeti hats in it for you!
SherpaDesk enables your team and colleagues to collaborate and communicate so that everyone is always on the same page.
Remember, 1st tech is always free. No catch. But when your entire team is on SherpaDesk, with access to all our newest features and integrations, you can unleash the power of collaboration to help your business grow.

Just log in to SherpaDesk to upgrade the rest of your team!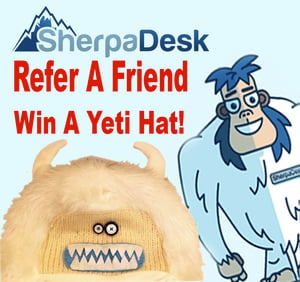 To refer a friend and win one of our world famous Yeti Hats, simply email us at Yeti@SherpaDesk.com
Still Have Some Questions About SherpaDesk's Features?